Modern pharmacy retailers are aggressively expanding their chains and embracing digital transformation solutions to conquer the promising market.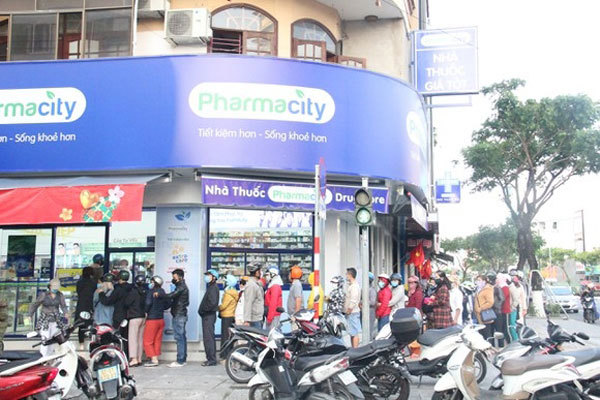 Modern pharmacy chains are ramping up expansion in Vietnam.
Pharmacity, Vietnam's largest pharmacy chain that currently operates close to 600 stores in 15 cities and provinces, with plans to expand to 1,000 stores across several provinces by the end of 2021, by opening an average of two new stores per day. By the end of 2025, the company aims to open 5,000 stores in several provinces in Vietnam, allowing 50 per cent of the population access to a Pharmacity store within a 10-minute drive.
In the next five years, the company aims to develop a healthcare ecosystem, integrating its traditional retail business with primary medical services, insurance products, and healthcare services.
Pharmacity is also strengthening its digital infrastructure. As part of its 2025 vision, Pharmacity will launch a "super app" that will provide various services, such as e-pharmacist and e-doctor, healthcare records, emergency ambulance booking, and at-home or in-patient care services.
It is hoped the ambitious five-year plan will help Pharmacity earn a turnover of over $1.5 billion and create a workforce of more than 29,000 employees, up from the current 4,000 employees.
Founder and CEO Chris Blank said, "My vision for Pharmacity is the most convenient pharmacy chain where Vietnamese people can entrust their health and wellness. The company is a pioneer in the pharmaceutical sector in Vietnam, creating the first modern pharmacy chain and brand in the country, offering convenience and product variety, with a price and quality brand promise to our customers."
Pharmacity has strong local and international financial backing, including by Vietnam-based private equity firm Mekong Capital and by TR Capital, a leading secondary private equity investment firm based in Hong Kong.
Another player, FPT Retail – part of technology firm FPT Corporation – is ramping up the expansion of its Long Chau Pharmacy chain. FPT Retail has so far opened 222 stores and plans to reach 350 stores by the end of this year. The retailer also focus on applying technology to optimise its sales process. For example, its real-time system can monitor the expiration date of its 5,000 products, thereby cutting the cost of disposing of expired drugs.
According to the chairwoman of FPT Retail's Management Board Nguyen Bach Diep, Long Chau Pharmacy aims to become a sustainable market leader and will make heavy investment in expansion efforts over the next few years. Thus, the chain will continue to incur losses in 2021-2022 and start to make profit in 2023. As of the first quarter of 2021, 90 per cent of Long Chau Pharmacy stores operating for over six months have broken even or made profit.
Diep added that Vietnam's pharmaceutical retail market has huge potential for growth in the long term. Long Chau is building a reputation in the market although it has fewer stores than some rivals. Compared with traditional drug chains, Long Chau Pharmacy has the edge in technology solutions as well as experience in managing supply chains and seeking store locations. By adopting technology, the company can gains actionable insight into the shopping habits of customers, thereby offering suitable products to meet their needs.
According to the 2020 healthcare committee white book by the American Chamber of Commerce in Vietnam, the pharmaceutical retail sector in Vietnam has undergone significant development in terms of accessibility and quality improvement over the past decade. The market is shifting from the model of traditional independent pharmacies to modern pharmacy chains which benefit consumers, in terms of accessibility, product and service diversity, and quality consistency.
"Currently capturing just 3 per cent of the market, modern pharmacy chains are gaining traction with consumers and are attracting private investment from both domestic and foreign players," the report said. "Market competition has become increasingly intense with the rapid expansion of modern pharmacy chains, such as Pharmacity, Long Chau, Medicare, Phuc An Khang, and others, competing for brand positioning and market share."
Findings from a Ken Research report show that Vietnam's pharmacy retail industry is expected to witness a compound annual growth rate of 8.1 per cent on the basis of revenue by 2025. A fast-growing and ageing population is projected to positively impact the industry with median age in the country expected to hit 42.1 years by 2050.
Seeing the opportunity in the country, pharmacy chains with large presence in Southeast Asia, including Matsumoto Kiyoshi and Watsons, have recently entered the market and more players are expected to enter into the industry and expand their presence.
On the back of the aggressive expansion, modern pharmacy chain sales are growing significantly. However, according to the report, the overall strong growth is hiding a very distinctive dynamic by pharmacy chain, with many having difficulties to grow sales per established outlet and few top players experiencing both a double-digit growth of sales in their established outlets as well as incremental growth from rapidly opening new stores.
Following the acquisition of a 40 per cent stake in the Phuc An Khang pharma chain in 2017, Mobile World remains cautious in its expansion. Mobile World chairman Nguyen Duc Tai said that the company has not acquired majority interest in the pharmacy retail chain due to regulatory barriers and unfavourable business environment. Also, the scale of the pharmacy retail market remains small and highly fragmented with 57,000 mum-and-pop pharmacies.
According to its financial statement for the first half of 2020, Mobile World invested VND62 billion ($2.68 million) in the pharmacy chain, suffering losses of VND8 billion ($348,000). The company is incorporating some pharmacy outlets inside its Bach Hoa Xanh grocery store to explore growth opportunities.
Other pharmacy chains such as Phano and My Chau have been present in Vietnam for over a decade but have yet to leave any impressive marks on the market. Analysts at Viet Dragon Securities Company have also pointed out that it is not drug retail chains but individual stores which dominate the market. These stores have advantages in low rent and store owners who offer consultancy to buyers; they also have high flexibility and competitive operation costs.
Meanwhile, drug retail turnover in Vietnam only accounts for 30 per cent of the total revenue of the pharmaceuticals market. In comparison, the figures are 64 per cent in Brazil and as much as 80 per cent in the Philippines.
VIR

Novartis is the sole pharmaceutical firm among a total of 34 units that were honored for their efforts and outstanding contributions to the Digital Transformation of the Healthcare Sector in 2020, at the National Digital Transformation Congress.
The long queues of people standing and waiting for their turn to buy face masks show the great potential of the drug and medical equipment market.