The proportion of textile and garment factories that have closed due to the COVID-19 pandemic has reached 30-35 per cent according to the Vietnam Textile and Apparel Association (Vitas).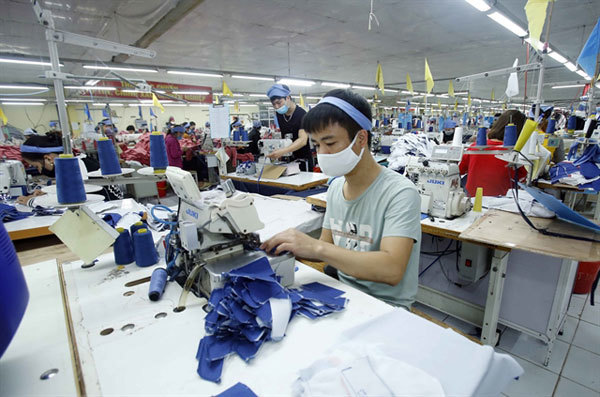 Many textile and garment factories are having to halt operations due to COVID-19. — VNA/VNS Photo Pham Kien
"I think that a number of these factories will even have to close for a long time, especially small and medium enterprises," said Vu Duc Giang, chairman of Vitas at an online meeting on Monday.
Businesses, he said, do not have enough funds to pay for three-on-site working arrangements to support employees to return to work. This is a huge challenge to stabilising Vietnamese textile and garment enterprises.
In addition, the vaccination rate of Vietnam's textile and garment industry was still very low, he went on.
The vaccination rate was particularly low in key production areas in the southwestern and southeastern provinces.
Vitas was one of four associations that sent an official dispatch to the Prime Minister, proposing speeding up vaccinations or supporting businesses to buy vaccines to give to workers of export industries. 
The total export turnover of the provinces in the central region accounted for 62 per cent of the total export turnover of the industry. 
Giang notes that this month would be a particularly difficult period, especially for southern businesses due to social distancing requirements.
Up to 90 per cent of supply chains in the sector are currently broken.
Vitas data showed that the export value of the textile and garment industry reached US$18.7 billion in the first six months of the year, while the target for the whole year is $39 billion.
"In the last five months of the year, businesses could only start exporting again if the pandemic situation is completely under control. In the most optimistic scenario, we can only achieve about $32-33 billion," he said.
Due to the inability to ensure the production situation as planned, the disruption of the supply chain had also put huge pressure on many textile and garment enterprises.
With the pressure of a seasonal manufacturing industry in which timeliness is imperative, failing to deliver on time would cause customers to cancel orders which would impact the industry in the medium term.
One concern is the number of workers leaving HCM City in a hurry to return to their hometowns. The Vitas representative said that their ability to return when the localities open again is also a huge challenge. This could foreshadow a very serious labour shortage in the immediate future.
Source: Vietnam News

As the current outbreak of the pandemic remains complicated, textile and garment makers fear lasting impacts on their operations,