Seventy-eight per cent of surveyed enterprises expressed satisfaction with tax administrative reforms this year, up 3 per cent compared to 2016.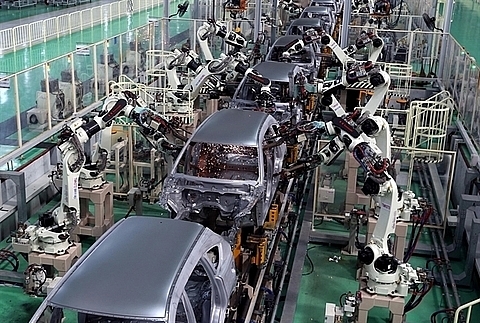 Auto production line at THACO MAZDA Automobile Co, Ltd at Chu Lai Open Economic Zone, Quang Nam Province. Many surveyed enterprises are satisfied with tax administrative reforms at present.

The information was released at a seminar held in Ha Noi on November 18 to announce the results of a survey measuring the satisfaction of enterprises with administrative reforms in the taxation sector this year.
The survey was conducted by the Viet Nam Chamber of Commerce and Industry (VCCI) which analysed data from 1,727 enterprises.
Dau Anh Tuan, head of the VCCI research group, said that reform efforts of the Ministry of Finance and the General Department of Taxation in particular over the past five years have brought about practical benefits and received recognition from the business community, helping to save time and costs for enterprises.
Compared to the survey results in 2016, this year's survey sees increasing scores in the service of tax officials, access to information and tax case settlement, along with slight decreases in the implementation of tax procedures and tax examination.
VCCI Chairman Vu Tien Loc said that the measurement of business satisfaction with tax agencies aims to collect feedback and assessment of taxpayers on reform projects of tax agencies, which targets to have at least 80 per cent of taxpayers satisfied with the tax services provided by tax agencies by 2020.
As of October this year, 99 per cent of enterprises had participated in online tax declaration and 93 per cent of businesses had implemented online tax refunds. VNA

Taxation agencies struggle to find individuals who have income from YouTube and Facebook, but have had some recent success.

The total collection for the state budget may exceed VND46 trillion may not be good news, because the sources of revenue are uncertain and the collection from enterprises has decreased.