2018 was the year witnessing the outstanding development of the new payment method via mPOS device. 
There was 27,500 places accepting payment via mPOS, posting 99 per cent year-on-year increase, according to the Viet Nam Bank Card Association (VNBA).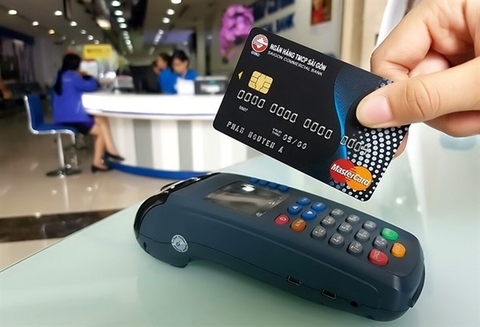 The amount of MPOS payment points accounted for 9 per cent in the card acceptance network nationwide. — Photo tapchitaichinh.vn
The amount of MPOS payment points accounted for 9 per cent in the card acceptance network nationwide.
Data from the VNBA's annual report in 2018 also showed that the traditional POS payment acceptance network decreased by 8 per cent compared to its amount in 2017. This shows that the banks and payment units no longer focus on developing traditional payment channels, but on new payment channels as mPOS, QR and e-Com.
Last year saw an explosion in the number of QR Code acceptance units, with nearly 58,000 payment points, which is an increase of 600 per cent compared to its number in 2017.
However, total payment transactions via QR were only VND70 billion. In details, each QR payment point took only VND1.2 million, calculated to be less than VND100,000 per month.
According to the expert's reviews, this shows that customers were still not familiar with QR Code payment. They did not respond positively as expected.
The year 2018 also witnessed the development of e-commerce, making an important contribution to the growth of Online e-Com payment segment, amounting to nearly VND48 trillion (over US$2 billion).
The habit of using cards in payment was still popular, especially international credit cards. Although international cards accounted for only 13 per cent (nearly 11 million cards) in the total of types of cards, its payment revenue took 52 per cent of total card payment transactions.
2018 was also the year of a strong development coming from mPOS payment method. There were seven banks deploying mPOS device to the market, including the big banks such as Vietinbank, Sacombank, BIDV, Vietcombank.
A representative of mPOS Viet Nam which provides mPOS solutions for the banks told Viet Nam News that mPOS expected to expand its number of devices used in the market to 80,000 nationwide in 2019, in all business areas that could contribute to the society of non-cash payment.
The experts also say that when a series of payment companies mobilise dozens to hundreds of millions of dollars from the investors, this year will promise a further explosion of the electronic payment in Viet Nam, especially when the Government policy allows to link the payment accounts with the mobile numbers that helps to universalise the non-cash payments to all citizens. — VNS