The number of air passengers to Can Tho City has risen by some 25% over the past month thanks to recently launched air routes linking the city with other destinations.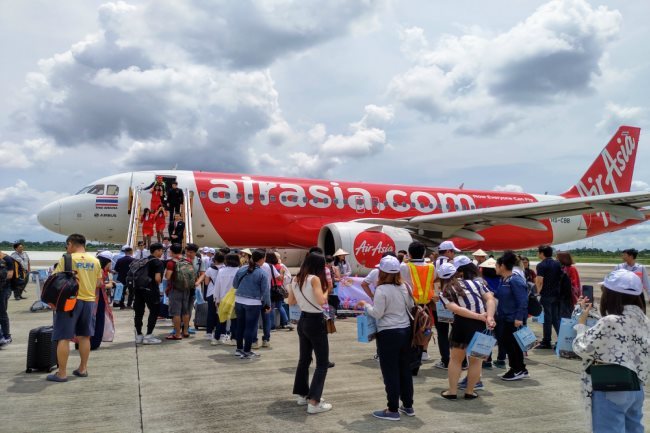 Passengers are seen at Can Tho airport after taking AirAsia's first Bangkok-Can Tho flight on May 2. Newly launched air routes have increased the number of air passengers to Can Tho
Tuan told the Saigon Times that the launch of local and international air routes, especially the Can Tho-Kuala Lumpur and Can Tho-Bangkok routes operated by AirAsia, is expected to promote trading and tourism activities between the Mekong Delta city and other parts of the country as well as foreign countries.
Laddawan Meesupwatana, group head of Product, Indochina Market at AirAsia, said in a press release that the Can Tho-Bangkok service, with three weekly flights and reasonable fares, will spur travels between Bangkok and the Mekong Delta.
The launch of the Can Tho-Bangkok route followed the success of the Can Tho-Kuala Lumpur, which was launched in early April, she said.
Kenny, a Thai national who was among the 76 passengers of AirAsia's inaugural flight on the Can Tho-Bangkok route yesterday afternoon, May 2, told the paper that this was the first time he had visited Can Tho, adding that he would spend two weeks exploring the city.
Aside from the rising number of air passengers, the new air routes are expected to help Can Tho and the Mekong Delta attract further foreign investment, explained the city's vice chairman, Duong Tan Hien.
The city has already mapped out a plan to set aside 300 hectares of land along Vo Van Kiet Street, near Can Tho airport, to invite investors to develop an aviation logistics facility, Hien told the paper.
Further, two more air routes linking Can Tho with destinations in South Korea and Japan are slated for launch by the end of the year, Hien added.
Other local airlines, such as Vietjet and Bamboo Airways, have been operating new routes linking Can Tho with other popular destinations in the country since last month. SGT