In alignment with improvements in investment policies, both domestic and foreign investors are expected to approach the most comprehensive legal consultancy services on investment in Vietnam.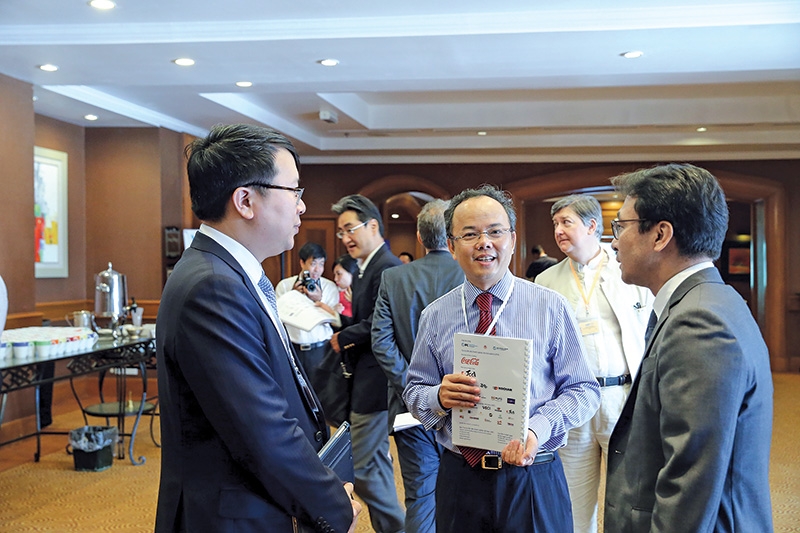 Investors are seeking legal services in order to help them thrive in Vietnam, which the new association can provide
On August 7, a new association for studies and consultancy for business and investment activities in Vietnam will make its debut, expecting to bring the best benefits to businesses and contribute to law-making and enforcement.
Tran Son Vu, head of the association's Promotion Agency told VIR, "The move is inevitable in the new development era at a time when the country is increasingly integrating into the global economy, and with its new strategy towards focusing more on private investment attraction and increasing the quality of foreign direct investment (FDI). Further, investor demands for the settlement of legal problems are also growing."
The association will help investors to better access the most comprehensive and ­updated legal policies on ­business and investment, and approach movements and possible trends of foreign inflows, as well as Vietnamese tendencies in investment abroad. It will also work as a link between ­investors and ­government agencies to help them solve concerns over legal issues.
To this end, the association will focus operations into two priority activities – studying demands on investment policy consultancy among investors, businesses, and lawmakers; and ­assessing investment movements and sectors of most interest in Vietnam, and those of Vietnam abroad.
Other tasks include developing specific research proposals, conducting studies, making appraisals of study results and transferring them to the targeted subjects, as well as assessing trial performances in practice.
With an initial number of 100 members, including highly-qualified and professional lawyers, consultants, legal analysts, and others who have strong economic expertise, the association aims to ­further increase the number in the next five years to serve unmet needs, thus enabling it to become the leading association in studies and consultancy of ­investment policies in the country.
Regulatory complications related to investment policies have been among the top concerns of domestic and overseas businesses in Vietnam including those from locations such as the European Union, Japan, the United States, South Korea, and Singapore. As shown in the latest fiscal year 2018 survey on the operations of Japanese companies in Asia and Oceania, released recently by the Japan External Trade Organization (JETRO) Hanoi Office, the incomplete legal framework and low transparency in legal performance remain among the biggest risks of such investors in Vietnam.
Industry insiders said that Vietnam is possibly forecast to see a rise in FDI inflows from the globe's big players including Japan, South Korea, the EU and the US, on the back of the Comprehensive and Progressive Agreement for Trans-Pacific Partnership and the EU-Vietnam Free Trade Agreement, thus possibly resulting in more growing demand for legal advice in the time to come.
To further facilitate business activities, Vietnam has been taking action, including Resolution No.19/NQ-CP dated March 12, 2015 on implementing tasks and solutions focusing on improving the business environment to enhance national competitive capacity (now replaced with Resolution No.02/NQ-CP dated January 2019), and Resolution No.35/NQ-CP dated 2016 on business support and development towards 2020. The Vietnamese government's efforts are continuing with the upcoming issuance of amendments to the Law on Investment 2014 and the Law on Enterprises 2014 with improvements on the business ­climate which aim to create more favourable conditions for ­businesses.
Acknowledging the new situation with unfavourable global changes and the wide influence of the Fourth Industrial Revolution, Vietnam is to utilise a new-generation FDI ­attraction strategy towards 2030 with new improvements in the country's ­investment attraction ­orientation and incentives, thus enabling international investors to make the next steps.
According to statistics from the Ministry of Planning and Investment, Vietnam ­attracted about $20.2 billion worth of newly-registered, added FDI and stake ­acquisitions in the first seven months of 2019. During the period, the country had 79,300 newly-established ­enterprises with the total registered capital of about VND1 quadrillion ($43.45 ­billion), up 4.6 per cent on-year in the number and 29.6 per cent in value.
Nguyen Canh Tinh - Acting CEO, Vietnam Maritime Corporation
In this new development era, one of the big challenges to businesses and investors in Vietnam is the weak knowledge of legal issues. The facts show that many businesses have to face risks in their activities due to a lack of prevention tools. We expect that the establishment of the new association will help businesses solve problems, meeting their growing demands among domestic and international investors in the country.
For Vietnam Maritime Corporation (VIMC), we are in the restructuring process, with legal consultancy being a strong focus to prevent us from possible risks in business activities. VIMC is concentrating its operations in port, shipping, and logistics, and is boosting co-operation both at home and abroad. It is important for us to learn thoroughly the rules and policies, as well as international practices so as to enable us to proceed with our plans successfully, and to protect us from any disputes.
Nguyen Van Cuong - General director, Navytex
Vietnam's policies are fairly open for newly-established businesses. However, they often have ­difficulties in understanding tariff policies, business conditions, and administrative procedures. In addition, they may not grasp the support mechanisms of the government for businesses, thereby affecting the orientation of their activities.
As a textile company, we need advice on import and ­export markets, and tariff ­policies for importing and ­exporting raw materials and goods, particularly as Vietnam has signed new-generation free trade agreements.
What is similar and different between these agreements? How can we get the most profit? What kind of documents do we have to prepare for ­import and export in the new context? There are many ­questions, and it will be convenient if someone can provide the answers. Therefore, if there is an ­association specialising in ­consultancy on policies, this will be a place for new businesses to seek those answers.
Duong Ngoc Cuong – CEO SDG Life JSC
The establishment of a new association for studies and consultancy for business and investment activities in Vietnam is very necessary for both domestic and ­foreign investors, especially for newcomers who need to learn more about the market and investment policies.
The facts prove that many capable businesses face difficulties when they eye expansion to other new sectors because they lack comprehensive knowledge about the policies on ­investment and business ­activities in these areas. Therefore, professional lawyers and consultants are very important to them.
Like other businesses, we sometimes require legal consultancy for fields of investment, capital use, or financial levers, or new ­policies which we have yet to update.Also importantly, professional legal consultancy will help domesitc and foreign ­businesses to be prevented from possible risks during performance. VIR
Bich Thuy