A series of new brands have appeared which have created a busy TV market again after a period of quiet.
Casper, a Thai TV brand, in late October brought a smart TV with modern features and reasonable prices to Vietnam. A representative of the manufacturer said it would distribute Iris, Aster and Veron models with a screen size of up to 65 inches.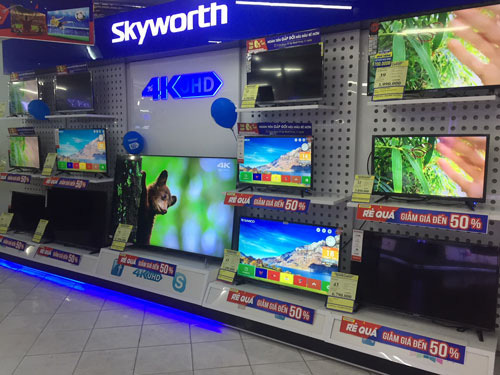 Casper has been present in Vietnam since 2016 with air conditioners and water heaters. All Casper's products are made and assembled in its factories in Rayong and Prachinburi Cities in Thailand, and they are imported to Vietnam under the CBU mode (complete built unit).

Some months ago, CooCaa, which introduced itself as the best selling brand in Indonesia, joined the Vietnamese smart TV market through Lazada which acts as the sole distributor.

CooCaa's products belong to the low-cost market segment with the selling price range of between VND4 million and VND11 million for 32-55 inch products. The brand is running sale promotion programs to boost sales in the year-end sale season.

A series of new brands have appeared which have created a busy TV market again after a period of quiet.
Meanwhile, Vsmart, a Vietnamese brand, has not made any official statement, but the images of Vsmart TV have appeared in the market. Sources said its products would hit the market soon.

Comments on forums say Vsmart TV would be in no way inferior to the products of big manufacturers in the world such as Samsung, LG and Sony, with modern technologies, large 55 inch screen and 4K resolution, HDR support images and dolby atmos sound.

Analysts commented that it is the right time for TV manufacturers to advertise their products and obtain bigger market share, while Asanzo, a Vietnamese brand, has been involved in misfortune with violations found by state management agencies.

TV manufacturers sell TVs at a loss to obtain bigger market share. Do Thanh Tung, a respected electronics expert, said that they would sell a TV with the production cost of VND3.3 million just at VND3 million to compete with rivals.

TV brands not only compete in prices, but also in post-sale services. Casper and Sanco allow clients to exchange or return within 100 days, while TCL has raised the warranty time from 2 years to 3 years. The brands also offer at-home maintenance policies

According to Le Hoang Minh, the owner of a HCM City based company specializing in providing products to provincial markets, such popular TV brands are sold mostly in rural areas and provinces. They are also sold on e-commerce websites.

Minh said low-cost TV products account for 10 percent of total TVs sold in the market.
Thanh Mai 

Vietnam Television (VTV) has secured the broadcasting rights for the 2022 FIFA World Cup qualification match between Vietnam and Indonesia for $400,000.