A draft document on solar power development will be filed to the Prime Minister for approval on December 15, local media reported.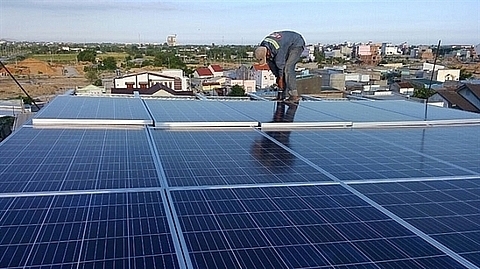 Rooftop solar panels are installed in Ninh Thuan Province. - Photo evn.com.vn
Under the draft, bidding price for the output of solar power production, also known as the feed in tariff (FiT), is set at VND1,916 (8.38 US cents) per kWh for rooftop projects, VND1,620 (7.09 cents) per kWh for ground projects and VND1,758 (7.69 cents) per kWh for floating projects.
The new prices are applied for solar power contracts that were signed before November 22, 2019 and those projects operating between July 1, 2019 and December 31, 2020.
The prices are lower than the previous price of VND2,086 (9.35 cents) per kWh regulated in the Prime Minister's Decision 11 dated on April 11, 2017. The previous price was applied for all types of solar projects under the FiT programme between June 1, 2017 and June 30, 2019 that allowed investors to enjoy price incentives for 20 years.
At the Vietnam Solar Power Expo 2019 on September 25-26 in Ha Noi, business executives were upbeat and excited to learn the FiT would get lower and allow companies to penetrate more into Viet Nam's solar power sector.
But questions have remained whether households that have installed rooftop solar panels would enjoy the new rates.
By the end of November 2019, nearly 19,400 rooftop panels were installed across Viet Nam with total production of 318MW. Seventy-three per cent of which is located in the South.
Under the draft document, the Ministry of Industry and Trade is responsible for listing all under-construction solar power projects in which developers signed contracts before November 22, 2019.
According to the State-owned power group Vietnam Electricity(EVN), there are two solar projects with commercial operation date (COD) set on June 30, 2019 and 33 projects having signed power purchase agreements (PPA) without COD recognisation. Those projects have total production of 1,870MW.
Meanwhile, there are six projects with PPAs signed between July 1 and November 22, 2019 but there is no COD recognition for those projects. Their total production is 347MW.
The ministry is also working with other ministries, sectors and international organisations to develop an international bidding mechanism, which is expected to be submitted to the Prime Minister as soon as possible.
A bidding test will be conducted in 2020 and EVN will take charge of launching the bid in accordance with the Law on Bidding. VNA

After months of uncertainty over the policy, the much awaited next round of purchase prices in solar power may be set through auction instead of enjoying the same feed-in tariff required elsewhere. 

When the purchase prices of solar power are set through auction, prices are expected to fall by 30%-40% from the current levels, said experts at a seminar yesterday.