New-generation Free Trade Agreements (FTAs) are expected to help Viet Nam become more competitive if the country reduces trading costs and improves its business environment, experts said on Tuesday at a conference in HCM City.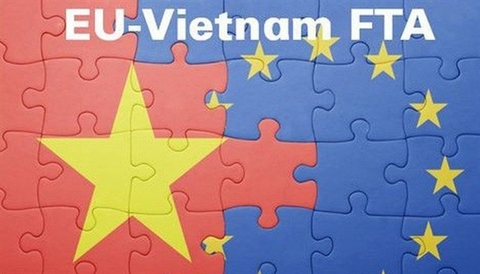 Experts say the EVFTA will have a significant impact on Viet Nam's economy in the years to come. — Photo vneconomy.vn
The Comprehensive and Progressive Agreement for Trans-Pacific Partnership (CPTPP) and the EU-Viet Nam FTA (EVFTA) trade deals will have a significant impact on the economy, according to Pham Binh An, director of the HCM City International Integration Support Centre.
The CPTPP and EVFTA could help increase Viet Nam's GDP by 4.3 per cent and 1.3 per cent, respectively, by 2030, he said.
Shipments to the EU are expected to surge by about 44 per cent by 2030, while those to CPTPP-member states are expected to rise by 14.3 per cent by 2035, according to An.
Moreover, the two trade agreements will put pressure on the Government to improve institutional governance as well as the business climate because of requirements included in the FTAs.
As of last year, Viet Nam had 17 FTAs with 60 countries, all of which offer the country a chance to transform its economy.
Besides increasing exports, FTAs have helped to promote administrative reform, improve infrastructure, and ensure equality in accessing resources.
Ngo Thanh Phong, lecturer at Tien Giang University, said that FTAs had created opportunities to participate in global supply chains, but Viet Nam must speed up administrative reform and improve its investment environment, especially in the context of increased protectionism internationally.
Between 2021 and 2025, the country's gross domestic product (GDP) is forecast to rise to 7 per cent on the back of new-generation FTAs, according to the Ministry of Planning and Investment's National Centre for Socio-Economic Information and Forecast.
Vu Tien Loc, chairman of the Viet Nam Chamber of Commerce and Industry (VCCI), said that Viet Nam's economic openness was ranked behind Singapore among ASEAN members, but its competitiveness and capacity for integration were still low.
In the 2018 Global Competitiveness Report by the World Economic Forum, Viet Nam ranked 77th out of 140 countries. It placed 99th for institutional competitiveness and 101st in business competitiveness.
Experts noted that Vietnamese products have advantages in certain markets such as the EU, which has little direct competition with Viet Nam. However, to make the most of their position, local businesses must meet the EVFTA's requirements on environmental standards, labour relations, product origin, and sustainable development.
At the conference, 20 out of 50 scientific papers received from 22 universities nationwide were chosen by the conference's Scientific Council to be published in the 2019 yearbook of the HCM City Banking University.
The event, organised by the university in cooperation with the HCM City Youth Science and Technology Development Centre, offered researchers, economic experts and scholars a chance to exchange views on how new-generation FTAs will affect Viet Nam's economy. — VNS

Free trade agreements (FTAs) had created opportunities for food imports and foreign investment in the domestic food industry, according to experts.

Vietnam has signed many free trade agreements (FTAs) since 2010 but its participation in so many FTAs makes no sense, noted Tran Toan Thang from the National Center for Socio-Economic Information and Forecast.