VOV.VN - Vietnam will be able to maintain its high GDP growth if it can negotiate effective trade agreements, especially new-generation free trade agreements.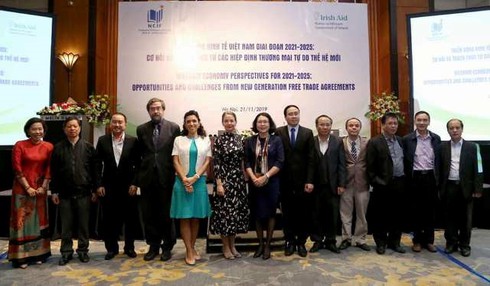 An international workshop on Vietnam's economic prospects until 2025: opportunities and challenges brought by new-generation FTAs (Photo: dangcongsan.vn)
Under its 5-year socio-economic development plan until 2020, Vietnam has maintained an annual GDP growth rate of more than 6.8%. Last year's growth was more than 7% and this year is expected to exceed 7%.
Vietnam  has achieved the GDP growth target set for the entire period. Inflation has been under control and the public debt ratio has been decreasing. But growth has been heavily dependent on capital. The support industry has grown slowly.
The contribution of services with high added value has remained low. Logistics costs are high. Exports depend on foreign-invested enterprises. Most Vietnamese businesses haven't participated in global value chains and their ability to innovate hasn't improved much.
At a recent international workshop on Vietnam's economic prospects until 2025, many experts pointed out the impact of new-generation FTAs on a number of Vietnam's macro-economic targets, adding that during this period, the economy will see new advantages and face new problems.
Dr. Dang Duc Anh, Deputy Director of the National Center for Socio-Economic Information and Forecast, said "The growth rate and trade are forecast to decline due to international developments and recent conflicts.
The Fourth Industrial Revolution together with protectionist policies and bilateral and regional trade liberalization will change investment flows."
"In particular, although tariff barriers have been reduced, non-tariff barriers have strongly increased, greatly affecting world trade and investment. Climate change, dwindling natural resources, and traditional and non-traditional security challenges will affect economic growth in Vietnam and the region," Duc Anh added.
The National Center for Socio-Economic Information and Forecast has developed two scenarios for economic growth in the new period. One predicts GDP growth of about 7% per year and the other forecasts GDP growth of about 7.5%.
The scenarios are based on the domestic and international economic context, particularly the impact of new-generation FTAs like the Comprehensive and Progressive Agreement for Trans-Pacific Partnership (CPTPP) and the EU-Vietnam Free Trade Agreement (EVFTA).
Both the CPTPP and the EVFTA cover relatively broad commitments compared to other FTAs, boosting growth and exports to member markets.
By 2030, the two agreements could help Vietnam's GDP increase, one by 4.3% and the other by 1.3%. Vietnam's export turnover to the EU is expected to increase 44.4% while its exports to other CPTPP members are likely to increase 14.3%. Benefits may also come from Vietnam's commitment to improve its institutions and business environment.
Economist Le Xuan Sang said "It will be necessary to revise laws and take the initiative in policy making. If the policies are not good, opportunities will become problems, especially the policies on the support industry, manufacturing, and FDI attraction. The policies should create advantages for domestic businesses." VOV

"We think that in 2020-2022, Vietnam may face negative impact from the trade war instead of short-term positive impact, " said Tran Toan Thang from the Centre for Socio-Economic Information and Forecast (NCIF).

According to forecasts of BMI Research, Vietnam's food industry is expected to achieve annual growth of 10.9% in 2015-2020.