The National Payment Corporation of Viet Nam (NAPAS) has announced a fee reduction for its local switching system services with an aim to encourage banks replacing their current magnetic strip ATM cards with chip cards ahead of schedule.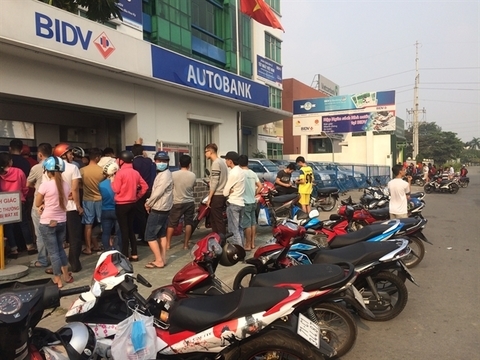 Workers at industrial parks in the southern province of Binh Duong gather at BIDV's ATMs to withdraw cash. Commercial banks are required to increase the number of chip cards to 51 million by 2020 in order to completely replace magnetic cards by the end of 2021.
Accordingly, banks will enjoy a 47-80 per cent fee reduction for NAPAS's switching system services (depending on kinds of transaction) if they complete technical requirements to enable the replacement of their magnetic strip ATM cards with chip cards from May 1 this year.
According to a SBV's plan, banks are required to replace 30 per cent of their current magnetic strip ATM cards, equal to more than 25 million in total, to chip cards by the end of this year to enhance safety and service quality.
Under the plan, banks must increase the ratio of chip cards to at least 60 per cent by 2020. This means at least 51 million cards will use chip technology. The regulation will ensure the country has completely switched to chip cards by the end of 2021.
The plan also requires card payment institutions to ensure that at least 35 per cent of their ATMs and 50 per cent of their points of sale (POS) accept chip cards by the end of this year. The ratios are required to increase to 100 per cent by the end of 2020.
Statistics from SBV showed the country was home to more than 18,170 ATMs and 294,500 POS machines, serving more than 85 million ATM cards with magnetic strips. These old-style cards can be easily hacked due to weak security features.
International card-issuing organisations have asked Vietnamese banks to switch to chip cards that meet EMV standards to increase safety amidst a growing number of information security thefts. Security experts have also warned Viet Nam's delayed transition to chip technology could put the country at risk of becoming a 'haven' for card criminals from around the world as it is among the dwindling number of countries where the use of magnetic swipe cards is still prevalent.
Commercial banks are in the process of switching over to the new cards because of their stronger security features. However, some banks say they face multiple barriers. They will have to upgrade their technology and replace ATMs and POS terminals with newer ones that are compatible with chip cards.
According to banks, issuing a chip card can cost some US$1.5-2.5, meaning they will have to spend between $105 million and $175 million for the transition, in addition to the cost of upgrading ATMs and core banking systems to adapt to the change.
Banks which connect with NAPAS's automated clearing housing system (ACH) to serve the payment of retail transactions will also enjoy a 25 per cent fee reduction for NAPAS's switching system services from October 1 this year.
A NAPAS report showed that the number of transactions conducted via its system increased by more than 45 per cent in 2018 over the previous year with the total value reaching more than VND1.7 quadrillion ($74 billion), a rise of 169 per cent. — VNS