The Ministry of Planning and Investment is drafting a national green growth strategy and plans to submit it to the Government by June to accelerate the transition towards a carbon-neutral economy in Vietnam.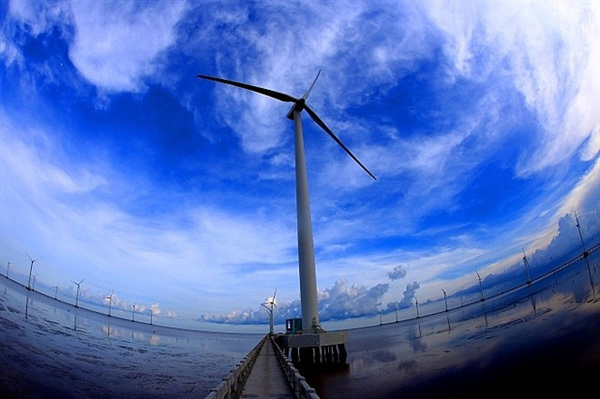 It is necessary to raise supports in term of taxes, fees and procedures to promote investment in environmental protection. — Photo haiquanonline.com.vn
Minister of Planning and Investment Nguyen Chi Dung told a recent conference on a national green growth strategy that green growth had become a goal every country was aiming for, especially those heavily affected by climate change.
"Countries around the world are starting to rethink options to achieve economic prosperity in a sustainable way in the face of growing concern about protecting the environment, promoting inclusive development and linking human and cultural values," Dung said.
"Green growth is considered a new approach in economic growth to achieve prosperity," he added.
From the beginning of 2020, the COVID-19 pandemic brought an unprecedented global crisis, which was changing many fields, especially accelerating the shift to a digital economy, he said.
COVID-19 also provided an opportunity for countries to re-evaluate economic growth models and raise public awareness of the serious threats to the environment and human health.
Dung said unsustainable models of natural resource exploitation were not only causing major negative impacts on the environment, including biodiversity imbalance, pollution and climate change, but also problems related to social equity, gender equality, inclusion and economic opportunity for future generations.
"This requires comprehensive policy responses from the Government," Dung said.
As Vietnam is one of the countries most severely affected by climate change, developing a carbon-neutral economy should be the top priority in the long term, he said.
He said the national strategy on green growth was critical for the country to take opportunities, use resources more efficiently to make breakthroughs and move towards economic prosperity.
According to Le Viet Anh, director of the ministry's Department of Science, Education, Natural Resources and Environment, the strategy aims to reduce greenhouse gas emissions, green economic sectors, greening lifestyles, promoting sustainable consumption, improving the quality of life, resilience to external shocks and ensuring equality in accessing opportunities and outcomes of the green transition.
Green growth aims to raise investment and resources in advanced technologies, digital transformation, smart and sustainable infrastructure, efficient use of natural resources, improve the environment quality and create impetus for private investment to play its role.
He added that the strategy was expected to be an effective tool to help Vietnam move towards inclusive development, expanding coverage to sectors that were not yet paid adequate attention to in the previous strategy such as education, healthcare and children.
A representative from the Asian Development Bank said that Vietnam needed to create mechanisms for green finance to develop resources for responses to climate change and environmental pollution.
Vo Tri Thanh, Director of the Institute for Brand and Competitiveness Strategy, said it was necessary to raise support by using taxes, fees and procedures to promote investment in environmental protection.  
VNS 

National green credit programs will help Vietnam reach its goals in the national green development strategy in a comprehensive way and help drive the economy towards sustainable development.

At the13th National Party Congress, Minister of Natural Resources and Environment Tran Hong Ha, spoke to the media about highlights of natural resources and environment sector.