To provide Vietnamese consumers access to high quality fresh fruits, top produce suppliers from New Zealand have collaborated with Vinmart to launch the second edition of New Zealand Fruit Week.
This initiative has brought great support to the community during the current COVID-19 pandemic since it began on 16th July and will continue to the end of the month.
In recent years, studies have shown that Vietnamese consumers are increasingly concerned about their health, where they look for premium quality fruits with high levels of vitamins and antioxidants. As a result, imported fruits from New Zealand are gaining familiarity and are trusted by many Vietnamese consumers.
The New Zealand Fruit Week at a Vinmart shop.
Fruits are the second largest food and beverage exports from New Zealand to Vietnam. It is a testament to the way New Zealand's fruit producers understand Vietnamese consumers' demands.
Well-established brands such as Bostock, Freshmax, Golden Bay Fruit, Rockit, Mr. Apple, T&G, Zespri and more have collaborated with Vinmart to supply Vietnamese consumers with premium quality, farm-to-table, safe, tasty and nutritious fruits during this New Zealand Fruit Week and beyond.
As one of Vietnam's top retailers, Vinmart takes pride in consistently striving to meet customers' expectations. Vinmart and Vinmart+ have been steadily increasing their fresh produce supplies including fruits and eggs by up to 3x and essential supplies such as vegetables by 5x to meet the demand from consumers during the current Covid-19 situation in the country. Apples and Kiwifruits are in high demand as they have a long storage life if stored properly in the refrigerator (up to 3-4 weeks), or at room temperature (up to 2 weeks), providing Vietnamese consumers a convenient way to enjoy their daily source of nutrition and fibre.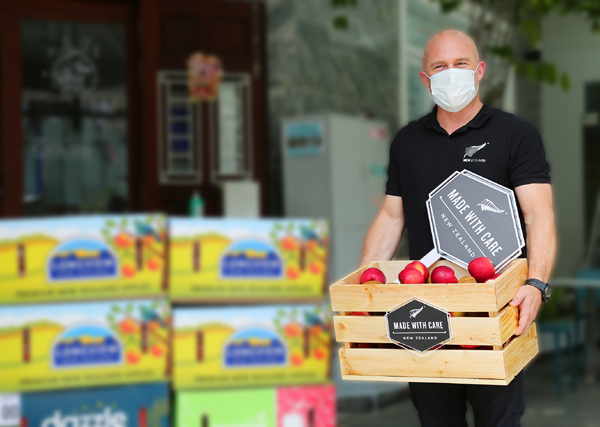 At the same time with the New Zealand Fruit week event, New Zealand Trade Commissioner and Consul-General to Vietnam Joe Nelson is preparing fruits to gift newspapers and KOLS.
As part of the collaboration, Vinmart is proud to be the liaison between New Zealand fruits exporters and Vietnamese consumers to bring shoppers the benefits from New Zealand's best products.
Ms. Nguyen Thi Phuong, Deputy General Director of Vincommerce, said: "This is the second consecutive year that VinMart and VinMart+ have joined hands with the New Zealand embassy to launch a commodity trading week, introducing New Zealand imported products to millions of Vietnamese consumers."
"With our customer-centric philosophy, VinMart and VinMart+ has carefully selected premium fresh products, directly imported from the world's leading countries, particularly New Zealand imported goods. We hope to fulfill consumers' demand, receive positive acceptance and contribute to the community by creating an excellent shopping experience. To achieve these goals, we plan to provide fresh and unique products with premium quality, diverse selection, and a safe shopping environment as Covid-19 continues to develop in the country."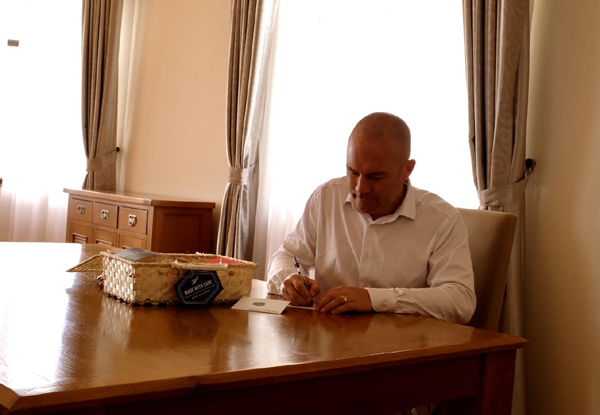 Mr. Joe Nelson is writing letters to encourage everyone to fight the pandemic together.
New Zealand Trade Commissioner and Consul-General to Vietnam, Mr. Joe Nelson, said: "As part of our commitment to the local Vietnamese market, we are delighted to have the support of Vinmart to bring New Zealand fruits to Vietnamese consumers. Through this collaboration, we want to continue to fulfil the desires of Vietnamese consumers as they look to consume healthy, nutritious and safe fruits, especially in this Covid-19 pandemic. We know how important staying home is currently and we want to support Vinmart to give people the opportunity to order New Zealand fruits online and delivered straight to their homes."
New Zealand's Ambassador to Vietnam, Tredene Dobson, said: "Despite Covid-19 and all of the difficulties posed by the pandemic, I am delighted that trade between our countries continues to grow. In the food and beverage sector in particular, we have seen that with strong supply chains and excellent relationships between New Zealand exporters and their Vietnamese partners, like Vincommerce, we are able to ensure our friends in Vietnam have access to the very best produce that New Zealand has to offer. I look forward to seeing even more New Zealand products and New Zealand ingredients on Vinmart shelves in the years to come."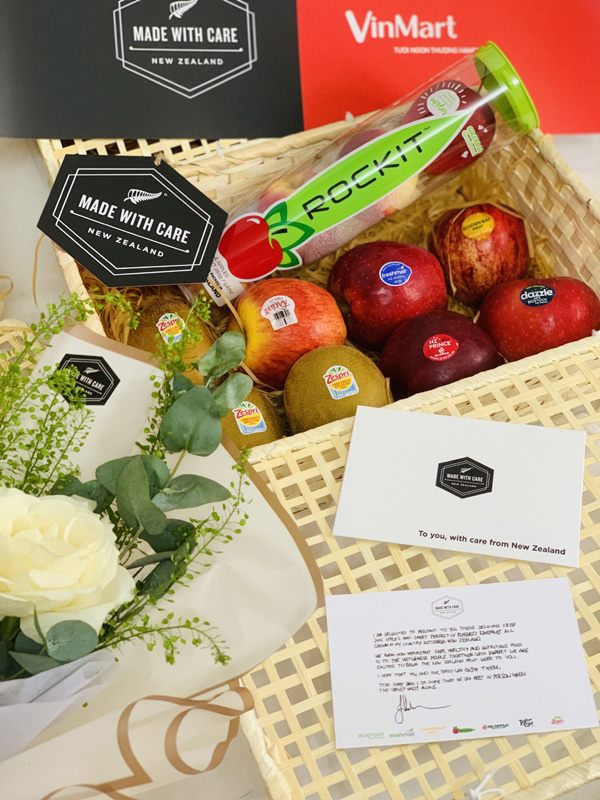 A spirit-boosting package of New Zealand by global campaign "Made with Care".
Despite the transportation disruptions caused by the Covid-19 pandemic, New Zealand will exert its utmost effort to ensure the trading activities between the two countries will remain intact. By launching the New Zealand Fruit Week during the pandemic outbreak, New Zealand producers offer local consumers great access to high-quality fruits at promotional prices.
The New Zealand Fruit Week is now live nationwide at Vinmart and Vinmart+ stores with numerous promotions online at VinMart's Flagship Store on Lazada and other e-commerce platforms. Offline shopping is also available at the following 10 key Vinmart stores across the country.
Hanoi: VinMart Times City; VinMart Royal City; VinMart Trung Hoa; Vinmart Vo Thi Sau; VinMart Le Duc Tho.
Ho Chi Minh City: VinMart LandMark 81; VinMart Cong Hoa; VinMart Thao Dien; Vinmart Le Van Viet; VinMart 3/2
PV
MADE WITH CARE
New Zealanders live with an appreciation for nature and follow the belief that "when nature is rich, people are rich". The lush green pastures, fertile soil, clear waters, and seemingly endless coastline produce delicious and nutritious foods that are truly a gift from nature, delivering safe and tasty food to tables around the world.
Through the 'Made with Care' global campaign, NZTE aims to expand the brand value of New Zealand products at a time when exporters are not able to be in-market. Starting in October 2020, a number of campaigns have been launched in major export markets. In Vietnam, the NZ Fruit Week event with Vinmart is one such opportunity for consumers to learn more about the benefits and strengths of New Zealand products.
Ends
For more information please contact:
Giang Nguyen
Head of Business Development F&B, Viet Nam
Email: giang.nguyen@nzte.govt.nz
https://www.nzte.govt.nz
About New Zealand Trade and Enterprise
Te Taurapa Tūhono | New Zealand Trade and Enterprise (NZTE) is the government's international business development agency. Our job is to support exporters in order to grow a productive, sustainable and inclusive economy. We work with all kinds of innovative businesses, including food producers, Māori land trusts and iwi, tech startups, service providers, manufacturers and more.