Startup support fund Next100 on December 10 signed a deal to invest VND10 billion in PushSale, a startup specializing in offering digital transformation solutions to online businesses.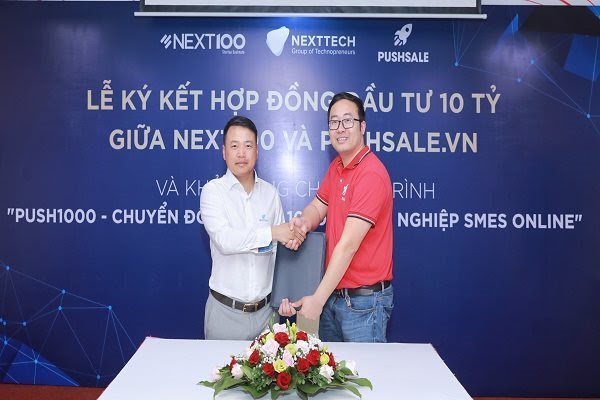 Representatives of NextTech and PushSale shake hands at a signing ceremony to invest VND10 billion in PushSale
Also, NextTech Group, which owns Next100, will team up with PushSale to launch a campaign, called Push1000, to help 1,000 online businesses in Vietnam and two other Southeast Asian markets with digital transformations next year.
With six years of experience in the field of outsourced marketing, PushSale founder Do Xuan Thang said that online businesses in Vietnam have heavily invested in online marketing activities but they lack a smooth connection among divisions ranging from marketing, sales, logistics and accounting to delivery and customer care, resulting in a waste of resources and business opportunities.
Accordingly, Thang and his coworkers founded PushSale in March this year to provide comprehensive digital transformation services to online firms. After being put into service, PushSale has enabled multiple companies to sharply increase their turnover as they were able to manage all their business activities.
Nguyen Hoa Binh, chairman of NextTech Group, pointed out that the community of small and medium enterprises has paid close attention to leveraging technology in management activities, also known as digital transformation, over the past two years.
Aside from funding, NextTech Group will also integrate with PushSale the ecosystems of many technology-based platforms, such as delivery app HeyU, ecommerce platform Netsale.asia and cross-border ecommerce fulfillment network Boxme.asia, to meet all business requirements of companies on a single platform, said Binh.
Further, NextTech will expand PushSale to other markets in Southeast Asia in a short period with the efficient use of resources, he added. SGT
Van Ly

Việt Nam News talks to representatives of organisations and countries about start-up and innovation collaboration with Vietnam.

Pham Hong Quat, head of the National Agency for Technology Entrepreneurship and Commercialisation Development under the Ministry of Science and Technology, talks about Techfest 2019 and the Vietnamese innovative start-up eco-system.