Once the first and the largest distributor of home appliances, Nguyen Kim has lost its market share as its rival expanded too rapidly.
After five years of holding 49 percent of shares in Nguyen Kim, Central Group from Thailand has, through it subsidiaries, completed the takeover of the oldest home appliance distribution chain in Vietnam.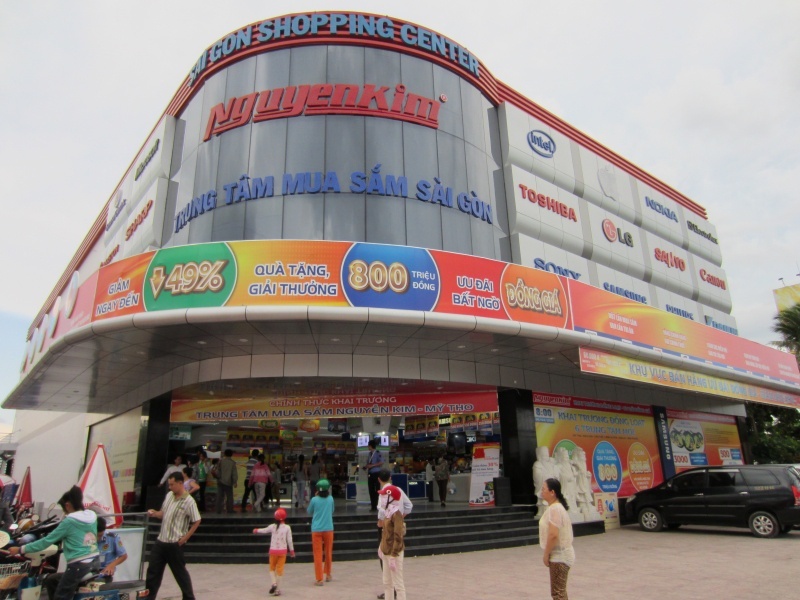 The value of the purchase of 51 percent of shares of NKT Technology Investment Development and New Solution JSC, the owner of Nguyen Kim, as reported by Central Retail, is VND2.6 trillion.

With the price, the value of Nguyen Kim chain with 70 shops is set at VND5.1 trillion, or $220 million. It is equal to 1/10 of the $2.1 billion worth of capitalization value of The Gioi Di Dong (Mobile World).

The pioneer

The first Nguyen Kim shop opened in 1996 in HCM City.

Once the first and the largest distributor of home appliances, Nguyen Kim has lost its market share as its rival expanded too rapidly.
Nguyen Kim continued to hold its position as a pioneer in the next 20 years, during which it opened many shopping centers and set up retail websites. In late 2007, it opened its first shop in Hanoi.

In 2015, when it sold 49 percent of shares to Central Group, Nguyen Kim had 21 home appliance supermarkets throughout the country. At that moment, it held 12 percent of market share, higher than the 8 percent of Dien May Xanh and the 7.5 percent of Dien May Cho Lon.

In 2013, Nguyen Kim reported revenue of VND8.4 trillion and the figure rose to VND9 trillion in 2014. In 2014-2015, its revenue was stable at VND9.5 trillion.

The Gioi Di Dong began expanding its business rapidly with Dien May Xanh brand, developed from Dienmay.com.

In 2016, Dien May Xanh became the No 1 in the market with 16 percent of market share and 250 supermarkets. In 2017, Dien May Xanh's market share soared to 30 percent, equal to the total market share of all other retail chains.

The Gioi Di Dong has over 1,000 Dien May Xanh shops, holding 38 percent of market share after nine years of operation. Nguyen Kim has 70 supermarkets after 24 years of operation.

Nguyen Kim was inferior to Dien May Xanh in terms of online sales with 3 million visitors a month against 9-10 million visitors according to an iPrice's report.

After the dissolution of VinPro in 2019, Nguyen Kim, Dien May Cho Lon and Dien May Xanh are now the three biggest retailers in the south. Meanwhile, in the north, besides the three big players, there are other well known names such as Mediamart, Pico and HC.

The electronics retail market value was VND45.5 trillion in 2019, according to GfK.
Chi Mai

On December 18, Vingroup announced its withdrawal from the retail sector. Adayroi, the e-commerce website, will merge with inID, while VinPro, the home alliance distribution brand, will be dissolved.
Vietnam, with its young demographic, growing incomes and large population, is considered a hugely promising market for retailers.