The Civil Aviation Authority of Vietnam (CAAV) is encouraging the establishment of new carriers, but it will not grant operating licenses to carriers that fail to present plans for training human resources, particularly pilots.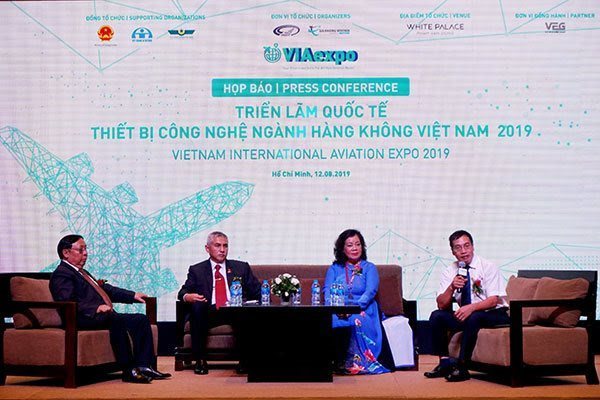 Participants at a press briefing to introduce VIAExpo 2019. CAAV will not grant operating licenses to carriers that fail to present manpower training plans
Apart from manpower, airlines have to meet three other criteria to be licensed: complying with the development zoning plan of the local aviation sector, competing fairly and lawfully and running safe operations on par with the sector's transport infrastructure and logistics facilities, said Tran Tuan Linh, head of CAAV's Science, Technology and Environment Department.
Competing fairly and lawfully means that airlines must not lure employees from and disrupt the normal operations of other airlines, he explained at a press briefing on August 12 to introduce Vietnam International Aviation Expo 2019 (VIAExpo) slated for November.
Unfair competition practices have been reported recently, as some airlines have lured pilots and highly skilled aircraft technicians away from rival carriers, he said.
Accordingly, aviation companies set to launch new airlines have to present specific plans to train personnel on par with their businesses' development strategies, the CAAV representative reported.
CAAV has received registrations for operating licenses from various carriers including Vietravel Airlines and Vinpearl Air. Based on the four given criteria, CAAV has asked the carriers to modify their applications and resubmit them for feedback before the applications are sent to higher agencies for approval.
Meanwhile, VIAExpo 2019 is the first aviation exhibition in the country. It will take place in HCMC from November 26 to 28.
The expo will feature 400 booths set up by local and foreign exhibitors, showcasing a wide range of products and technology in the aviation sector. Besides this, there will be conferences, seminars and a host of networking sessions that connect reputable buyers to aviation and aerospace suppliers at the event. SGT
Dao Loan