Grab's acquisition of Uber in Vietnam did not violate the country's competition law, the Vietnam Competition Council (VCC) has said.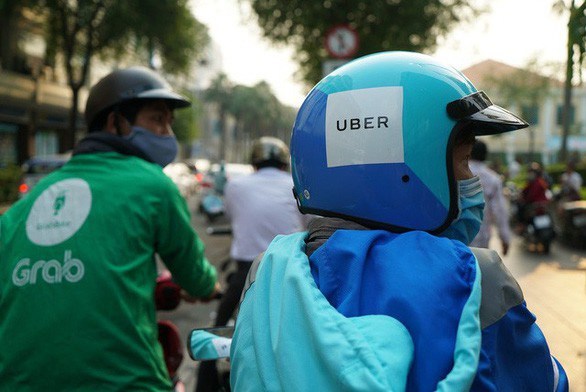 Grab's acquisition of Uber in Vietnam did not constitute an act of economic concentration, said VCC. (Source: tuoitre.vn)
According to a press release sent by the Ministry of Industry and Trade (MoIT) on June 19, the acquisition did not translate into an act of economic concentration by obtaining ownership of another enterprise as stipulated in Article 17 of the Competition Law and Article 34 under Decree No 116 on Competition.
The decision was made after the VCC held a hearing on the case on June 11 with the presence of all involved parties.
On June 19, the VCC announced its decision to reject the conclusion of the MoIT's Vietnam Competition Authority (VCA) that Grab had infringed the competition law by acquiring Uber's operations in Southeast Asia, including in Vietnam.
On March 26, 2018, Grab announced it had acquired Uber's Southeast Asia operations for an undisclosed sum. Shortly after, on April 16, the VCA decided to conduct a preliminary investigation into the purchase, saying it may have violated the Law on Competition 2004.
The VCA had said the combined market share between Grab and Uber in Vietnam exceeded 50 percent, which would be a breach of the regulations.
According to the ministry, if the combined market share of the parties accounted for 30 to 50 percent in the market before the acquisition, the firms will be fined 10 percent of their total revenue from the previous financial year. If the figure exceeds 50 percent, the transaction will be overruled.
However, Grab claimed it had acted legally and that the competition authorities have misinterpreted the scope of relevant markets when calculating its market share.-VNA

The State Bank of Vietnam (SBV) has just fined ride-hailing firm Grab VND120 million (USD5,217) for breaking regulations on borrowing from foreign lenders.  

The Ministry of Transport has given the green light to the implementation of GrabTaxi services in three provinces, including Thanh Hoa, An Giang and Dak Nong.  

Cars which provide passenger transportation services via ride-hailing platforms like Grab will have to have roof signs showing that they were "contract vehicles".