Many Norwegian companies said they are ready to invest in Vietnam as long as the Vietnamese government ensures a fair and equal investment environment.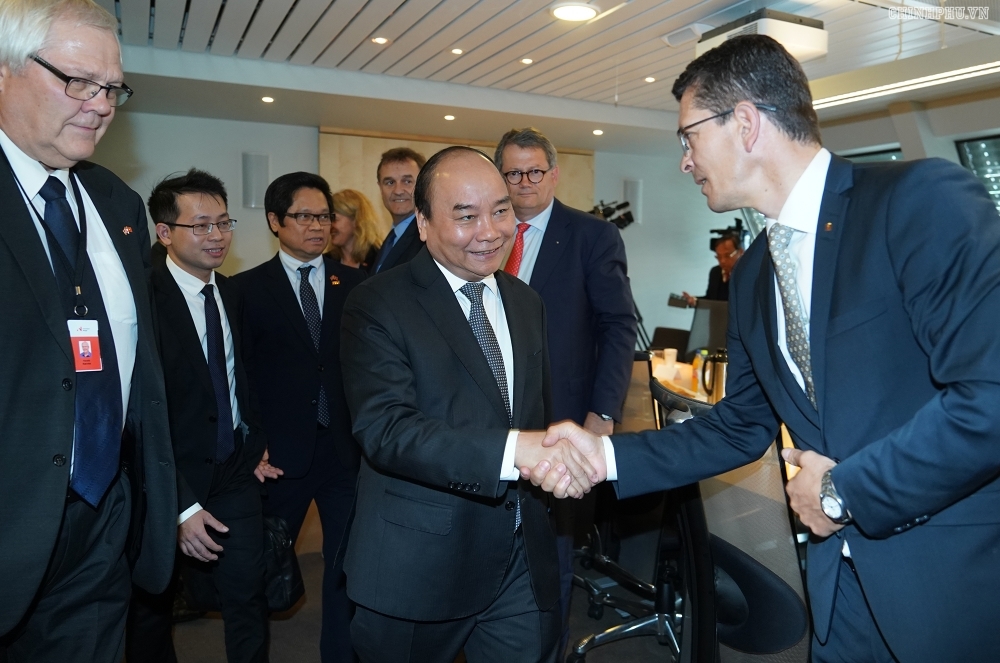 Vietnamese Prime Minister Nguyen Xuan Phuc meets with Norwegian firms in Oslo. Photo: VGP
Norwegian companies all realize that Vietnam is now available with more opportunities than challenges and they stand ready to expand their businesses or start investing in the country if the Vietnamese government advocates a fair and equal investment environment, said President and CEO of Jotun Group Morten Fon.
Morten Fon said at a working session between half a dozen of Norwegian companies and Vietnamese Prime Minister Nguyen Xuan Phuc during his visit to Norway on May 24-26.
In turn, PM Phuc said that a government of integrity and constructive accountability stresses its attention on creating a fair, equal, and transparent business environment.
Phuc affirmed in a statement that Vietnam treats all economic players equally without managerial favoritism and values foreign direct investment. Vietnam keeps the investment environment more open and it has greatly contributed to the high economic growth over the past years, he said.
President and CEO at Kongsberg Gruppen ASA Geir Haoy said at the meeting that Vietnam appears as an attractive destination for foreign investors with fast and stable growth.
Big deals in the pipeline
At the working session, PM Phuc met with representatives of leading Norwegian firms namely Kongsberg, DVL-GL, Pharmaq, Vard, Juton, and Scatec Solar.
The PM highly appreciated ideas contributed by the firms, saying that their advanced technologies-based operations in Vietnam are good for the country's sustainable growth and expecting the establishment of a "Made in Norway" manufacturing hub in Vietnam – the country of 100 million people.
Jotun Corp is one of the world's leading manufacturers of paints and powder coatings. Its Jotun Paints (Vietnam) Co., Ltd started operating in Vietnam in 1994. Its accumulated revenues are about US$120 million so far. President and CEO of Jotun Group Morten Fon said at the meeting that the company plans to build in the next two years another manufacturing plant costing US$100 million in Ho Chi Minh City, which is about 40 km from the current factory, which is located in Binh Duong province.

Kongsberg Gruppen ASA expects to cooperate with Vietnam in marine economy, aquaculture, and fishing industry. The company's President and CEO Geir Haoy said that the company is able to contribute to sustainable ocean development through mapping and studying the seabed to serve the aquaculture and fishing. It expects to work in biomass energy by oceanic technologies.
During the visit, PM Phuc took a trip to Kongsberg leading provider of hybrid technology in the offshore and marine vessel segments. The company has been awarded a significant offshore Integrated Monitoring and Control System contract to vessels of 13,000 tons in Vietnam.

PHARMAQ AS, the world's leading pharmaceutical company supplying environmentally sound, safe and efficacious health products to the global aquaculture industry, started fish vaccination in Vietnam in 2011. The project is the first ever fish vaccine commercially available in Vietnam and represents a breakthrough to both the Vietnamese seafood industry and to PHARMAQ, according to the company.
Activities will include vaccination training and close collaboration with the farmers during and after vaccination.
"By the introduction of ALPHA JECT® Panga 1 we have reached a great milestone in the history of PHARMAQ and taken another step to strengthen our presence in the global fish health market. Our activities in Vietnam are an essential part of our strategy in exploring the potential of the Asian aquaculture industry", said Morten Nordstad, CEO of PHARMAQ.
At the meeting with PM Phuc, Morten Nordstad said the company plans to produce more vaccines for tra fish, conduct more trial injections for aquatic creatures, and boost technological transfer to Vietnamese partners.
Besides a research and development (R&D) establishment located in Oslo, PHARMAQ is running another R&D base and some laboratories in Vietnam. Since 2018, the company has vaccinated more than 80 million pangasius in Vietnam.
The vaccination has helped avoid the use of antibiotics in aquaculture in the Mekong delta, improving quality of pangasius, heading towards the sustainable development.
In Oslo, Vietnamse PM Nguyen Xuan Phuc and Norwegian counterpart Erna Solberg held a joint press briefing in which they agreed to take drastic measures for further trade, especially cooperation in maritime economy and sustainable maritime management.

The two PMs addressed determination to boost the negotiations of the free trade agreement between Vietnam and the European Free Trade Association (EFTA) (including Norway, Switzerland, Liechtenstein, and Iceland). Hanoitimes
Linh Pham