More than 300 real estate brokerage exchanges, or one third of these firms in Viet Nam, have closed recently due to low supply and the impact of the COVID-19 epidemic.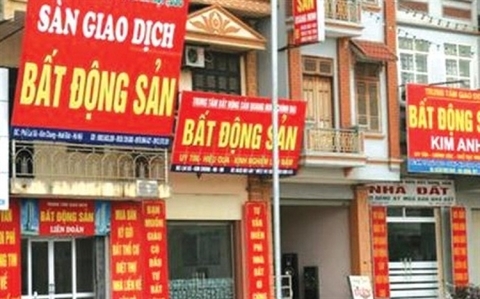 Real estate brokerage exchanges are in a difficult situation. — Photo cafef.vn
Nguyen Van Dinh, vice chairman of the Vietnam Association of Realtors (VARS), told local media: "Real estate brokerage exchanges are facing a difficult situation."
By the end of 2019, Viet Nam had about 1,000 real estate brokerage exchanges, including big ones with 3,000 staff across the country, and small ones with only a few dozen employees. VARS' statistics showed that in the last three years, the growth of real estate brokerages in the market has averaged about 15 per cent per year to reach 300,000 last year.
However, Dinh said: "Only two thirds of them can stay in the market," adding the rest had to leave the market as many realty project owners were not launching house sales to avoid crowds and risk spreading the COVID-19 epidemic.
As most of the brokerage exchanges find their customers at such events, there was less and less work for them, said Dinh.
According to the incomplete statistics of the association, another 500 exchanges had to temporarily suspend operations. These exchanges either laid off employees or change them from full-time to part-time jobs.
There were still between 150 to 200 real estate exchanges because they have signed new contracts with real estate investors before the epidemic began. Now they still had lots of products and existing customers.
Data from the Business Administration Registration Department under the Ministry of Planning and Investment, showed that, by the end of 2019, real estate was the line with the highest number of businesses suspended and dissolved, with 598 enterprises. Registration of temporary cessation of operation, up 36.8 per cent year on year and 686 enterprises dissolved, up 39.4 per cent.
Su Ngoc Khuong, senior director of Savills Vietnam added that in the 686 dissolved, brokerage service providers were the majority
VARS' vice chairman said: "This is the worse time of the market in recent decades."
Dinh also clarified the difficulty of the brokerage community was due to a lack of supply, especially in the big cities like Ha Noi and HCM City. According to Savills Vietnam, many projects have been on-hold due to difficulties in land clearance as well as the inspection process from the authorities.
According to an experienced realty investor, the epidemic has worsened investors' concerns. Many people who need to buy a house or an apartment are still waiting for the epidemic to be brought under control. — VNS
CBRE Vietnam's senior director Dung Duong offers her take on the new trends that will shape the local real estate market since the COVID-19 outbreak.

COVID-19 has had a strong impact on the global economy, and the property market has not managed to escape the blow.