With booming online sales, e-commerce exchanges have set their sights on the automotive industry.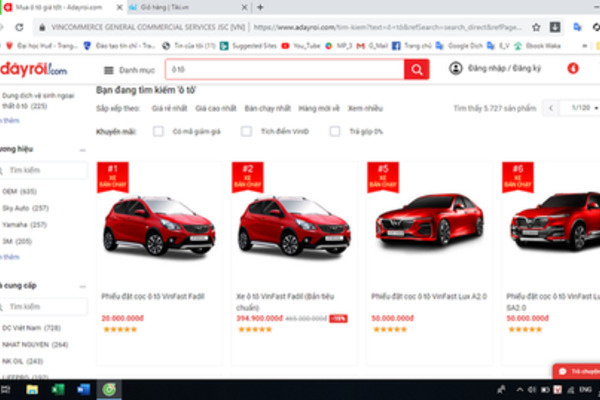 Vingroup's e-commerce platform Adayroi.com advertises the group's automotive products. — Photo cafebiz.vn
Along with the need to purchase and expand multimedia business methods, a number of businesses are looking to e-commerce to promote products to consumers.
About two years ago, e-commerce floors embraced the sale of motorbikes, which brought about effective business results thanks to clearly listed prices and promotion programmes.
One Vietnamese e-commerce channel, Tiki, said that by August 2016, the motorcycle section of the website achieved a growth rate of 4.5 times compared to the same period a year before.
Cars are now also being sold online, with Vingroup's e-commerce platform Adayroi.com listing the group's Vinfast vehicles and Tiki joining forces with two top car brands – Toyota and Honda. This is just the start of online car sales in Viet Nam.
Some products are discounted by up to 15 per cent and many incentives are on offer to attract customers, such as instalment options with interest rates at zero per cent.
A Tiki representative said in order to buy products online, customers just need to leave their details and the information about the car they are interested in. Within half an hour a representative will call to offer advice and finalise the sale.
Within 24 hours after the order is made, the customer will be notified of the time and place to receive the car from the dealer. On arrival, customers will receive the car and get after-sale support as well as warranty information.
However, at present, Tiki said that for Honda vehicles, customers can only collect the cars at dealers in HCM City, Bien Hoa and Long An. For Toyota, customers can collect cars in Can Tho, Tien Giang and Ben Tre.
With this method of purchasing automobiles, Bui Xuan Truong, Director of Truong Thanh Auto Company Limited, said that the first phase will be difficult as Vietnamese consumers are used to buying expensive items in person.
However, if prices online are much lower than in showrooms, consumers could see the cars in person before buying them on e-commerce platforms, Truong added.
Truong also noted that if businesses want to succeed with selling cars online, platforms need to offer price reductions, financing support, after-sales services and ensure cars are genuine.
This new method of selling cars can only be applied for new vehicles; with used cars, this method is not feasible, he said.
A customer, Le Minh Long, living in District 12, HCM City, also expressed doubts. "With a product costing several hundred million or even billion dong, I still want to go to the showroom to choose it, see the interior design and test drive it instead of sitting at home, clicking a mouse and buying it. I tried consulting e-commerce websites for cars, but the customer care still lags behind traditional showrooms."
Le Van Hieu, Director of Lifestyle & Digital Services at Tiki, was optimistic about this method of buying new vehicles. He said: "We are making buying a car as simple as buying any other item on Tiki. Our goal is to expand the automotive segment to at least 20 provinces and cities nationwide by 2020. At the same time, from now until the end of the year, Tiki will continue to expand cooperation with other firms like Ford, Nissan, Mitsubishi and Hyundai to give customers more choice when buying luxury items."
According to a report from the Vietnam Automobile Manufacturers Association (VAMA), the Vietnamese automobile market in the first half of 2019 saw purchasing power growth of over 20 per cent compared to 2018.
It is expected that Viet Nam's auto market will exceed 300,000 cars by the end of this year and Viet Nam will continue to be in the top five major automobile markets in Southeast Asia. — VNS