The Ministry of Finance plans to develop an electronic trading system for public assets, deputy minister Tran Xuan Ha announced on Thursday.
VN Government discuss matters related to BT projects, zoning law
Banks are worried as BOT projects incur losses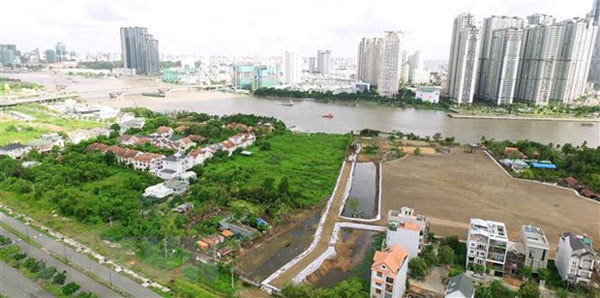 Many projects in HCM City's Thu Thiem Urban Area are built under BT contracts. In late 2018, a new resolution on the use of public assets to make payment for investors involving BT projects was issued. VNA/VNS Photo Quang Nhut
The system aims to ensure transparency in selling, transferring and leasing public assets, following the Law on Management and Use of Public Assets which was issued in 2017 and came into effect in January 2018.
Since then, it has established a legal basis for effectively monitoring and ultilising public assets in State and local departments.
However, since public assets in Vietnam are managed and used by many different agencies, it is difficult to have detailed regulations for some types of public property, according to La Van Thinh, head of the ministry's Public Assets Department.
Only 50 per cent of ministries, state agencies and local authorities have set up the necessary standards and equipment for their offices to be compatible with the law's regulations, affecting the investment, purchasing and maintenance of public assets.
The ministry will complete a decree on payments for investors of projects under BOT (Build – Operate – Transfer) contracts and propose it to the Prime Minister in May.
The national database of public assets will be upgraded and management of public assets will be tightened to prevent misuse and promptly handle any wrongdoing.
In December 2018, the Government issued Resolution No 160/NQ-CP on the use of public assets to make payments to investors involved in BT (Build – Transfer) infrastructure development projects.
BT construction contracts signed before January 1, 2018 that are yet not fully paid will continue following the law effective at the time of signing.
For contracts signed from January 1, 2018 which have used public assets for payment, ministries and local authorities will review the contracts to ensure compliance with the Law on Management and Use of Public Assets and other regulations on land and the State budget.
If it complies with the law, payment will continue following the provisions stated in the BT contract. Otherwise, it must be renegotiated based on the law.
VNS