Despite having been present in Vietnam for a few years, the US pay-TV Netflix has come under fire for dodging taxes and not supervising content. It is also questioned about its role in an online scam.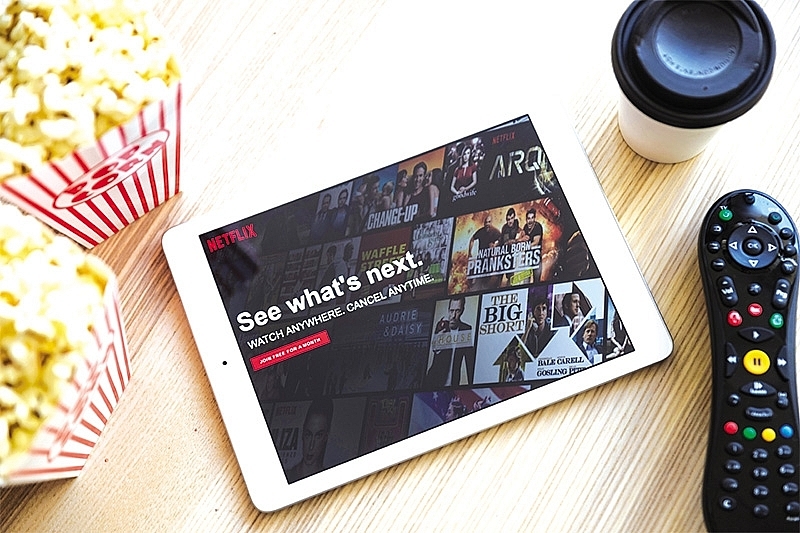 Workmines.com was using Netflix's brand to cheat people out of their money
In Indonesia, the Ministry of Communications and Information Technology asked Netflix to set up a representative office and ensure tax compliance.
Netflix has a negligible presence in the country as it is only a content provider for IndiHome, one of the service products of PT ­Telekomunikasi Indonesia.
In Singapore, Netflix has to co-operate with Singtel, the largest mobile network operator in ­the city-state, to meet legal conditions.
In early 2018, Singapore's tax authority planned to apply a 7 per cent tax on online services provided by Spotify, Netflix, and Amazon Prime.
In Thailand in 2017, the National Broadcasting and Telecommunications Commission ­announced plans to build a legal framework for managing and taxing OTT services.
Last week, the Vietnamese social media was in commotion over a scam involving the use of Netflix brand.
Hundreds of thousands of users worldwide lost hundreds of millions of US dollars in total by watching Netflix videos on an intermediary website.
Earlier, users were contacted about watching Netflix videos and getting paid for it. The website workmines.com claimed to be an intermediary of Netflix, recruiting users to watch videos on a daily basis.
This work was claimed to boost the viewership of Netflix and improve its ranking on Google and YouTube's search engines.
The offer has attracted a lot of users from Vietnam and other countries. According to statistics published on workmines.com, there were nearly 450,000 active users every day.
Users had to pay $208 to register an account on this website, and receive 22 paying videos every day, or $850 to receive 100 paying videos, and $1,800 for 100 videos.
Believing in the reputation of Netflix, a lot of people had invested large amounts of money in hopes of higher gains.
According to the arrangement, users would be paid $0.4 after watching a short video on Netflix.
According to their calculations based on the website's promise to pay out users on every Thursday, they expected to recover the costs within a month.
The system, however, did not live up to expectations. Nguyen Thanh Long, a user on workmines.com said that the website completely shut down last week, right after a sharp increase in the number of registered users.
"I am an unemployed graduate student. When I found out about this website and this business opportunity, I borrowed more than $9,000 from family and friends to set up five accounts on workmines.com, expecting to make hundreds of millions of dong [several thousands of US dollars] every month just by watching Netflix videos. Three days after setting up the accounts, the website shut down, leaving me indebted with nowhere to turn," Long complained to VIR.
Not only Long, hundreds of people have poured large amounts of money into this trap. The total amount that workmines.com appropriated may amount to $100-400 million, based on the $208-1,800 spent by each of the above-mentioned 450,000 active users at workmines.com.
Discussing the scam with VIR, Nguyen Thanh Ha, chairman of SBLAW, said, "Online scams are nothing new, but they are becoming more and more sophisticated."
According to Article 174 and 175 of Vietnam's Criminal Code 2015, those who obtain property by fraud or by abusing trust can face a penalty of up to three years of community sentence or six to 36 months of imprisonment.
"At present, we cannot clarify the role of Netflix in this case. However, if there is a relationship between the brand and the scammers, Netflix will have to at least partially compensate victims," said the lawyer.
Though Netflix's role in the scam in Vietnam remains unclear, it is being accused of dodging its tax obligations and not supervising content in line with the Vietnamese laws.
Netflix has been present in the Vietnamese pay-TV market since 2016. Throughout these three years, it has collected 300,000 subscribers and is a rising threat to Vietnamese pay-TV service providers who claim they are hampered by tax and other administrative fees.
"Netflix charges VND260,000 ($11.3) of monthly subscription fee, but it does not have to pay tax, and its content is not managed by the local authorities. Meanwhile, Vietnamese businesses have to pay tax not only for importing content and buying copyrights but also for providing services and corporate income tax," said Tran Van Uy, general director of Saigontourist Cable Television Co., Ltd.
Nguyen Ngoc Lanh, deputy general director of VTC Digital, said that over-the-top (OTT) platforms have been given far more incentives to do business in Vietnam than local businesses, but they are not willing to fulfill their responsibilities on tax and content management.
Regarding this issue, at a conference organised by the General Department of Taxation, Nguyen Thanh Lam, director general of the Authority of Broadcasting and Electronic Information under the Ministry of Information and Communications (MIC), said that customers are paying for watching movies on Netflix on a monthly basis, so the provider has to comply with Vietnamese tax regulations.
The same could be said of other cross-border platforms like Google, Facebook, Grab, or booking.com, which are making hundreds of millions of US dollars annually from their business in Vietnam, but ignore or dodge associated tax responsibilities. Additionally, the content of these OTT services is not moderated by the local authorities.
Le Dinh Cuong, vice chairman of VNPayTV, said that the association has several times proposed the Government Office, the MIC, the Ministry of Culture, Sports and Tourism, and the Ministry of Justice not to grant certificates to foreign businesses which do not comply with requirements on content management in compliance with the Law on Press.
Cuong said that digital content at such cross-border platforms as Netflix, Iflix, and Facebook is too large and is updated in real time, which makes it even more important to manage and moderate their content to ensure reliability and legal compliance, and create a fair playground with local content providers.
"These platforms carry the risk of spreading false, distorting, and negative information. Unless they are brought to operate under the local legal framework, competition between local and foreign players will be unbalanced," said Cuong. VIR
Nguyen Huong

Local competitors are complaining about Netflix which they claim is dodging its tax obligation and does not supervise content in line with Vietnamese laws, reported VN Investment Review.

A Netflix documentary series debuting in April will include an episode featuring Vietnamese street food.