As the number of online orders is up to several million on special days, sellers are rushing to build storehouses.
December 12 was one of the biggest sale promotion campaigns of the year for e-commerce sites.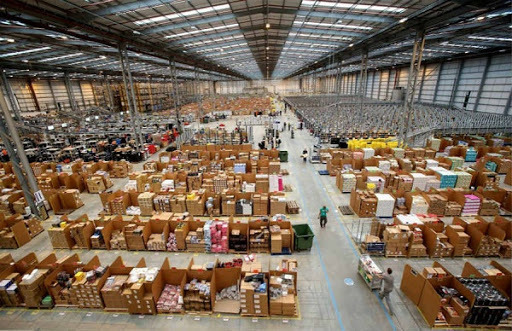 According to Lazada, the volume of washing liquid sold in one day was enough for 3.5 million households to use for a day.
Around 200,000 plants and seeds were sold on that day. The number oil-free fryers sold on that day could save 9,000 liters of vegetable oil, while the lipsticks sold would be as tall as the highest building in the world, the Burj Khalifa in Dubai.
According to Shopee, one seller of smartphone accessories on the platform earned VND13 billion after 24 hours on December 12. Around 1,000 skincare products were sold every minute. And 60,000 kitchenware items and dining table accessories were sold on that day.
Prior to that, during the October 10 sale promotion campaign, Tiki saw sales increasing by 30 percent compared with the September 9 campaign, which was reported as having the highest revenue for Tiki in 10 years.
The revenue on October 10 was 3.5 times higher, and the number of products was 2.5 times higher than the same period last year.
All e-commerce sites reported sharp sales increases on Singles' Day November 11, Black Friday November 11, and Christmas and New Year sale seasons.
While the retail industry has suffered heavily because of Covid-19, e-commerce has been thriving as people tend to buy online instead of going to supermarkets and shops to avoid direct contact.
Forbes commented that Vietnam is a promising land for e-commerce firms, with internet penetration rate reaching 65 percent.
According to Redseer, the gross merchandise value (GMV) of Vietnam's e-commerce sector may reach $50 billion.
Napas reported a growth rate of 76 percent in online payment transactions in the first months of 2020. Consumers with e-wallets make 1.6-2 transactions a day via mobile phones, mostly to pay for food, eride-hailing, and electricity and water bills.
The strong rise of e-commerce is expected to be a driver for the development of the logistics real estate sector. Because of the sharp increase in number of orders, e-commerce firms have to store more goods at places near customers, which leads to higher demand for flexible storehouses.
JLL has reported an increased demand from large clients who want storehouses near central areas with the area of 10-15 hectares.
Developing distribution centers nearer to ports and bus stations is a wise strategy which helps minimize risks of interruptions if global upheavals occur in the future. 
Duy Anh

E-commerce offers businesses, especially small and medium-sized enterprises (SMEs), a direct reach to international customers, boosts their sales, speeds up the marketing process and saves costs, experts have said.

Flexible warehousing models that can help businesses optimise their storage are required amid the development of e-commerce, experts have suggested.