While the world is in a crisis over the lack of empty containers to deliver goods, leading to skyrocketing shipping fees, thousands of containers are idling away at Vietnamese seaports.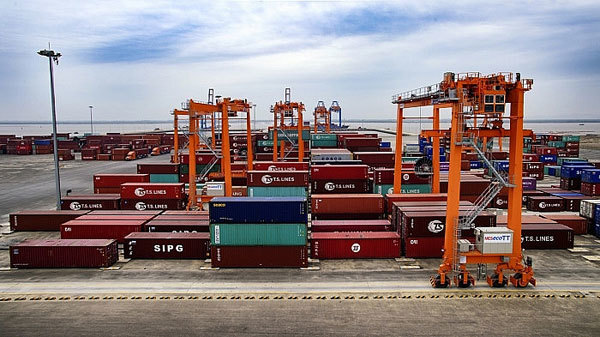 Containers holding waste materials continue piling up at seaports due to COVID-19.
Nguyen Anh Vu, director of Haiphong Maritime Administration, said that as of July 21, Haiphong has 2,708 containers waiting for use. The seaports and inland container depots (ICDs) with a large number of idle containers include ICD Nam Hai (over 1,200 containers), the Tan Vu port branch of Haiphong Seaport JSC (334 containers), and Dinh Vu Port (257 containers), among others.
A leader of Nam Hai-Dinh Vu Port said that over 1,000 containers are waiting to be used at Nam Hai ICD that have been conveyed from Nam Hai-Dinh Vu Port.
"They all contains old tyres which the owners refused to receive. Authorised agencies have completed the necessary procedures to hand them over to shipping lines for re-export outside Vietnam," he said.
In the south, as of July 23, Tan Cang-Cat Lai Seaport had a total of over 2,160 containers lying unutilised for 90 days while there were another 1,1000 containers of waste materials at Tan Can-Cap Mep seaport, and over 1,200 containers of waste materials at Tan Cang-Hiep Phuoc Seaport.
According to a representative of Vietnam Customs, as of June 15, 6,665 containers of goods were waiting idle at customs areas, mostly in the southern province of Ba Ria-Vung Tau, Ho Chi Minh City, and Haiphong. By the end of June, customs agencies dealt with and cleared over 1,100 empty containers.
The representative, however, admitted that despite the efforts, the clearance of idle containers is progressing slowly due to COVID-19 and social distancing measures that prevent the gathering of large teams of workers.
Nguyen Thi Thuong from the Vietnam Maritime Administration said that in the coming time, the agency will ask maritime administrations of cities and provinces to propose coercive measures to deal with, suspend the granting of licenses for entry into Vietnamese seaports for shipping lines bringing non-eco-friendly goods to Vietnam.
"Shipping lines need to work with seaports to only allow waste and waste materials with the requisite certificates to enter Vietnam to prevent illegal actions," she recommended.
Source: VIR

There is a serious shortage of empty containers for exports from Viet Nam, Phan Minh Thong, general director of agriculture products exporter Phuc Sinh Joint Stock Company, said.