Vietnamese shares may continue falling this week as investors remain pessimistic about economic and business prospects in 2019.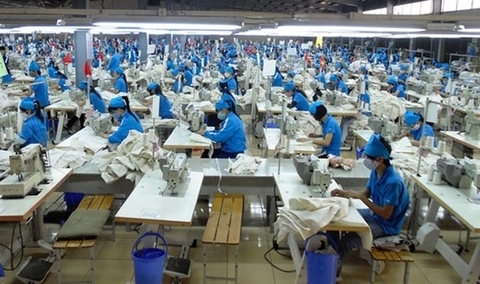 A garment factory belonging to TNG Investment and Trading JSC. The company has announced its Q1 post-tax profit increased 72 per cent year-on-year. — Photo baodauthau.vn


The benchmark VN-Index on the Ho Chi Minh Stock Exchange ended last Friday at 982.90 points, recording a weekly loss of 0.64 per cent.
The minor HNX-Index on the Ha Noi Stock Exchange fell 0.16 per cent last week to finish at 107.70 points.
Lack of purchasing power was the main factor that dragged the markets down last week, leaving mixed results among large-cap stocks in the VN30 basket.
Volatile trading was witnessed throughout the week which is understandable given companies are providing very little supportive information while global stocks are moving amid concerns about another economic recession.
The International Monetary Fund (IMF) last Tuesday lowered its global growth forecast to 3.3 per cent for 2019 from the 3.5 per cent target made in January on worries about the collapse of US-China trade talks and a no-deal Brexit.
In addition, reaching the 1,000 points benchmark last achieved in early October 2018 was still a big challenge for the VN-Index as whenever the benchmark index nears the milestone, selling pressure increased pulling it back down.
Negative movements last week was mainly caused by poor market sentiment, especially individual investors who were not in a good mood and chose to either stay out of the market or offload their portfolios to earn profits, according to Nguyen Hoang Viet, head of market analysis at Vietinbank Securities JSC.
"It's obvious now the market is in an 'annoying' stage when both sellers and buyers are uncertain of what they're doing. Despite that, 'selling' seems to dominate market sentiment at the moment," Viet told tinnhanhchungkhoan.vn.
"Many individual investors are worried about the risks that may arise with the common stock market while the derivatives market is clearly giving them plentiful opportunities," he said.
That reduced the interest of investors in common stocks and lured them to the derivative markets, making liquidity fall strongly, Viet added.
Trading volume on both local bourses reached average 189.7 million shares in each session of last week, which was down from 230.5 million shares recorded from April 1-5.
Trading value also fell to VND3.88 trillion (US$166.8 million) in each session from VND4.16 trillion during the same period.
On the derivatives market, nearly 85,000 futures contracts were exchanged in each session last week, up 6.7 per cent from the previous week.
"Technical indicators have pointed out that there is a big chance the VN-Index is going to decline on a head-and-shoulders pattern because it failed to conquer the 1,000 point level," Viet added.
That scenario was forecast to happen if trading liquidity remained low and more negative news kept hitting both international and domestic markets, he said.
Liquidity has reached very low levels but it is not the main factor that could boost the benchmark index for a reversal, according to Nguyen Hong Khanh, head of market analysis at Vietnam Investment Securities Co (IVS).
Though some companies had released first-quarter earnings reports showing higher profits over a year ago, their shares did not advance and even triggered investors to sell more strongly.
That may indicate "investors were become more cautious as macroeconomic elements like the prices of fuel and electricity may have bad impacts on 2019 corporate earnings," Khanh said.
According to BIDV Securities Corp (BSC), 13 listed companies on HoSE and HNX had released Q1 earnings reports as of last Friday with combined profit climbing 63 per cent year-on-year to VND205 billion.
This year, investors might bet in export-oriented sectors such as textile and garment and seafood, which are forecast to grow on better global trade conditions, Khanh said.
Seafood processors last week recorded big gains as the US Department of Commerce imposed a zero per cent anti-dumping tax on Vietnamese shrimp products.
In addition, textile and garment firms would count on free-trade agreements, which were expected to help them enter high-standard markets around the world.
The short-term market outlook would remain negative for the next two weeks until the market takes a few days off for the national holidays so that investors calm down and make better preparations, Khanh added. — VNS