Government officials, business groups and executives, and experts gathered at a conference in Dong Nai Province's Bien Hoa City on Monday to discuss measures to enable the southern key economic region.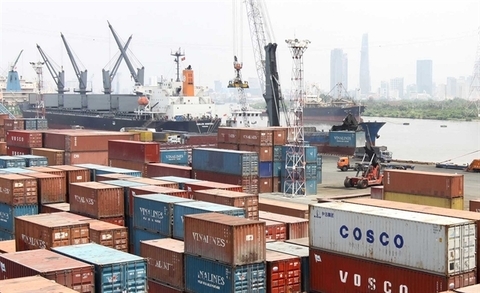 Containers gathered at Sai Gon Port, HCM City. Better infrastructure and facilities allow HCM City and seven other provinces in the southern economic region to gain competitive advantages to become the spearhead of the Vietnamese economy.
Prime Minister Nguyen Xuan Phuc said the region, which consists of HCM City and seven provinces – Tay Ninh, Binh Phuoc, Binh Duong, Dong Nai, Ba Ria-Vung Tau, Long An, and Tien Giang – plays a special role in the country's socio-economic development, accounting for more than 45.5 per cent of its GDP.
Its infrastructure is better than in other regions, and it is the only area in the country to simultaneously possess advantages in industry and services, technology, IT, finance and banking, commerce, logistics, and human resources, he said.
But it is showing signs of slowing economic growth and linkages with the region remain weak, he said.
Its members are not doing too well in the PAPI (Public Administration Performance Index) and PCI (Provincial Competitiveness Index) though overall it is an economic dynamo, he said.
He urged them to continue to innovate, capitalise on opportunities brought by Industry 4.0 and focus on training human resources to sustain development and remain the driving force behind the country's development.
"We should not say much about achievements but speak about weaknesses, shortcomings and limitations that we are facing to currently so that the Government … understands and creates more favourable conditions for the development of the region."
He called on Dong Nai Province and the Ministry of Transport to focus on paying compensation to and resettling people whose lands have been acquired for the Long Thanh International Airport so that work on it could start next year, he said.
Minister of Transport Nguyen Van The said Tan Son Nhat Airport in HCM City is overloaded, Cai Mep-Thi Vai Port lacks connectivity with road networks and urban transport is overloaded in many places, often severely.
If the region's transport infrastructure is not developed properly, it would certainly affect its economic growth, he warned.
Dr Tran Du Lich, former director of the HCM City Institute of Economics, said transport connectivity and urban development are the two most important issues for the development of the region.
Deputy Prime Minister Vuong Dinh Hue proposed that the council of southern key economic region should regularly meet to discuss and identify priority projects to serve the socio-economic development of the region.
Nguyen Thanh Phong, chairman of the HCM City People's Committee, called on the Government to prioritise allocation of funds for key traffic works and logistics in the region and draft land use plans for it.
Officials from other provinces in the region raised several issues related to transport infrastructure and policies to enhance the region's connectivity.
The region achieved average annual economic growth of 8.34 per cent in 2016-18, with its per capita income rising to nearly US$5,500 last year, two times the national average.
The region also tops in FDI attraction.
The country has four key economic regions, the others being the northern and central regions and the Mekong Delta, with their 24 provinces and cities accounting for 27 per cent of the country's area and population but 89 per cent of GDP. — VNS