PM Nguyen Xuan Phuc has requested the Ministry of Finance and other government agencies to verify whether electronics firm Asanzo has been selling Chinese goods disguised as made-in-Vietnam, local media reported.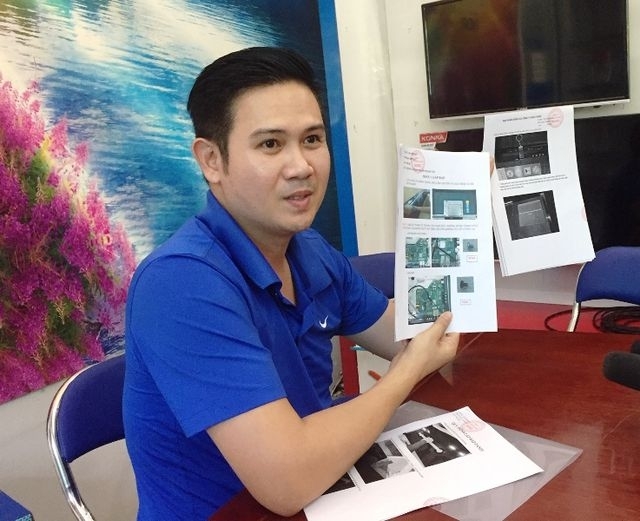 Asanzo's CEO Pham Van Tam in a press conference on June 23.
 Following the PM's instruction, the Ministries of Finances, Public Security, and Industry and Trade are tasked with investigating the case and handling violations, if any, in compliance with Vietnamese law.
The conclusion of the investigation must be submitted to the PM before July 30, stated the instruction.
Tuoi Tre newspaper previously claimed Asanzo's production facilities actually only assemble televisions with components originated from China, while other electronic household products are imported entirely from China without a single component made in Vietnam.
On June 21, the Business Association of High-Quality Vietnamese Products stripped Asanzo of the title "High quality Vietnamese goods" awarded in 2017.
Controversies surrounding Asanzo's products have prompted a number of leading retailers for consumer electronics, including Nguyen Kim, Cho Lon, among others, to temporarily suspend the sale of Asanzo's products in their distribution networks before any official conclusion from competent authorities is made.
CEO of Asanzo Pham Van Tam held a press conference on June 23 admitting the use of up to 80% of foreign-made components for the company's main products including televisions and air-conditioners. Tam also informed the software for televisions is fully developed in Vietnam.
In his discussion with Tuoi Tre, however, he said Asanzo's products are foreign made and assembled in Vietnam.
Currently, Vietnam does not have specific regulations and criteria for products to be certified as made-in-Vietnam, and customers do not have appropriate measures to verify the products.
Existing requirements are mainly related to label, geographical indications and brands, while there are no standards to determine whether a product is considered to be made-in-Vietnam.
As of present, made-in-Vietnam products must be partly or wholly produced in Vietnam. Hanoitimes
Ngoc Thuy

Several major retailers of mobile phones and home appliances have taken Asanzo-branded items off their supermarket shelves, after Asanzo Vietnam was discovered trading Chinese electronic products bearing Made-in-Vietnam labels.  

Electronic products from Asanzo Vietnam, known as an electronics manufacturer supplying high-quality Vietnamese products in the local market, have been discovered to be Chinese goods being sold as Vietnamese products.