Vietnam Supporting Industries Forum 2019 held on November 28 in Hanoi.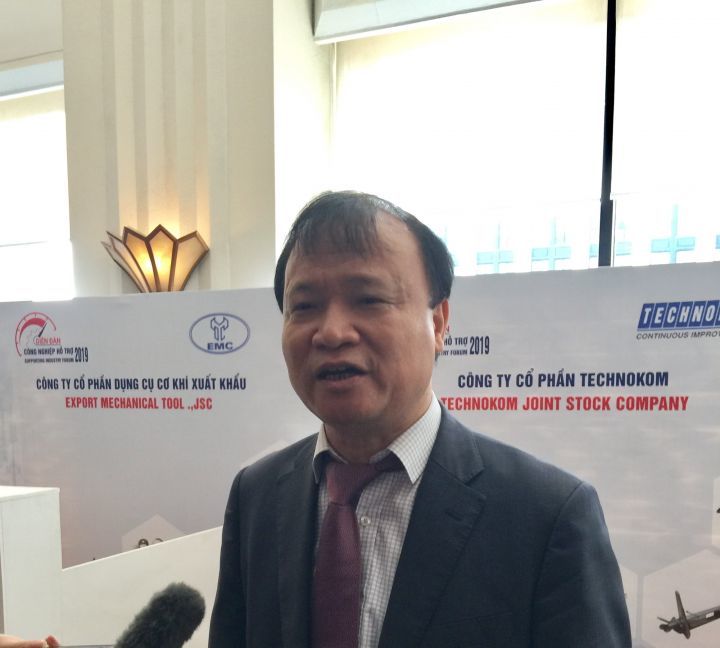 Deputy Minister of Industry and Trade Do Thang Hai
 
Deputy Minister of Industry and Trade Do Thang Hai emphasized that the prerequisite for developing the automobile support industry is to have a developed domestic automobile manufacturing and assembly industry, which opens up market opportunities for the support industry to become suppliers and participate in supply chains of enterprises producing and assembling final products.
"Vietnam's automobile industry needs to attach itself to regional and global value chains," he told the Vietnam Supporting Industries Forum 2019 held on November 28 in Hanoi.
With the theme "Vietnamese enterprises participating in the global automotive production chain", the Forum was organized by the Ministry of Industry and Trade and the Tuoi Tre newspaper.
Speakers gave overviews of the development of Vietnam's automobile industry and the related support industry, shared experience on capacity development, and proposed policies and solutions to support Vietnamese enterprises to enter global value chains. They also affirmed the government's determination to strongly promote the development of support industries for the automobile industry. 
"Not all auto parts are imported, but the fact is that we are importing a lot of materials to manufacture products in Vietnam, and automobiles is one such product," Minister Hai told VET. "The government is very interested in developing the support industry in general and supporting the automotive industry in particular."
"We need to synchronize solutions to resolve the problem of automobile manufacturing and assembly enterprises having to import most of their components and spare parts. Ministries and agencies are assisting businesses involved in the automobile industry, on issues of taxation and administrative procedures, etc. The government has approved an import tax policy on imported components that will discourage assembly and manufacturing businesses in Vietnam from doing so."
Ms. Dinh Thi Gam, Sales Manager at the Mai Van Dang Co., told VET that the business is currently manufacturing and trading in the field of automotive components, spare parts, and motorcycles, with sales standing at VND130 billion ($5.6 million), and it is fully capable of meeting the requirements of foreign partners on technical standards and price.
The company's customers are partners from fastidious countries like the EU and Japan, which account for 50 per cent of its total revenue. In addition, domestic customers are mainly foreign-invested enterprises, accounting for 30 per cent of revenue; still a small number.
"We expect the government will have policies to encourage foreign-invested enterprises to connect with and trust manufacturing enterprises in the automotive support industry to become partners in the near future," Ms. Gam said. By 2020, the company plans to increase total revenue by 20 per cent.
The localization rate in Vietnam's automobile industry, especially for cars of less than nine seats, is low because the support industry has not developed, so assistance policies need to be better, Minister Hai said.
"Enterprises in the industry have increasingly improved compared to previous years, and leading enterprises have enticed other small and medium-sized enterprises into the field to develop together," he went on.
"The government does not need to offer financial support, it needs of introduce appropriate policies to create leading brands, thereby providing full development support to the industry."
The Ministry of Industry and Trade will continue to synthesize ideas from enterprises to propose relevant policies to the government and relevant ministries, creating favorable conditions to support enterprises in Vietnam's automobile industry. VN Economic Times
Minh Do

The proportion of automobile parts made in Vietnam remains modest because of problems in production costs and quality.

Prime Minister Nguyen Xuan Phuc has instructed the Ministry of Finance (MoF) to look at taxes and fees related to automobile manufacturing and assembly in order to help the sector grow.