Can the prices of pork destabilize the monetary policy formulated by the central bank in Vietnam?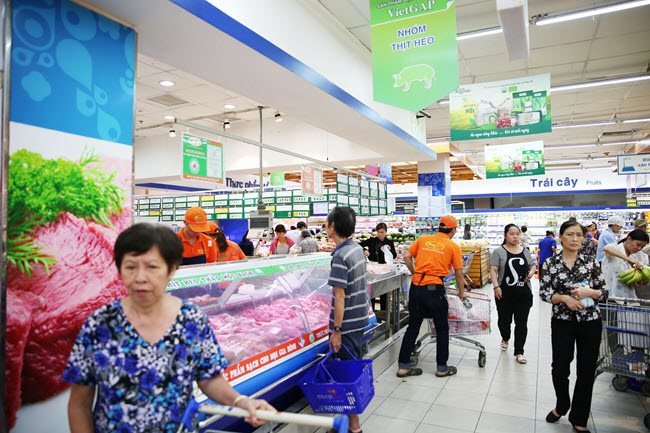 Pork counter at a supermarket in HCMC. It is customary for Vietnamese to consume pork, considering it a staple food. As a result, pork prices have risen remarkably while those of other meat like poultry have plunged to a record low recently 
Data available from the General Statistics Office (GSO) show that the African swine fever has spread to all 63 provinces and cities of Vietnam, forcing the culling of some 5.7 million pigs. By October, Vietnam's total hog herd had plunged by a fifth year-on-year.
Following its outbreak, African swine fever cut pig prices for four consecutive months, from March to June, as farming households tried to sell off their pigs to cut loss.
However, pork prices made a U-turn in the four months that followed, from July to October. Notably, in October alone, the retail price of pork rose by almost 8%, and has shown no signs of easing. Currently, pig prices are hovering around VND70,000 per kilogram, soaring around 30% in October and expected to reach VND80,000 later this month.
Will the price continue to rise in the future? The possible answer which may be accepted by many is it will sustain the rising streak this month and perhaps in the next three to six months.
The above argument is reliant on various points. First, the fever epidemic has yet to come to an end. So far, China has had to cull some 120 million of pigs, or about 40% of the hog herd of this country whose pork production is the world's largest. In Vietnam, the figure announced by the GSO may not be final. Second, pig supplies are shrinking while demand is strongly on the rise as the Lunar New Year is nearing.
Third, the restoration of the hog herds of pig farmers has yet to begin. The reason is pig raising households, which account for around 50% of the nation's pig population, suffered horribly when the swine fever attacked and thus need time and money to be back on track. What's more, the fever virus may come back any time to the affected areas. Currently, pork supplies in Vietnam are mainly from key enterprises in the husbandry industry, such as CP Vietnam, Dabaco and Anofeed.
Fourth, it is customary for Vietnamese to consume pork, considering it a staple food. As a result, pork prices have risen remarkably while those of other kinds of meat, like poultry, have plunged to a record low recently.
Monetary policy under mounting pressure
It is the Vietnamese custom of eating pork that this food presently accounts for a 4% weight in the basket of consumer price index (CPI) in Vietnam. Therefore, pork alone made up 0.33% out of the 0.59% CPI rise in October. A look into how pork prices in China have influenced this nation's CPI may surprise us. Since the outbreak of the swine fever, Chinese pork prices have risen threefold, resulting in a CPI rise of 3.8% year-on-year in October in this country, a record high since January 2012.
What will happen in Vietnam may play out the Chinese scenario. In other words, Vietnam's CPI may continue to jump drastically in the coming months. This argument is backed by the fact that Vietnam's inflation has been kept in check for a long time. Therefore, any fluctuation, whether a rise or fall, is likely to exert a tremendous influence on the CPI index in the coming time.
Low CPI has led to a low interest rate in Vietnam during the past two years. Particularly, when low inflation expectations are maintained, both Vietnamese individuals and businesses have no longer retained foreign currencies. Bank account holders now tend to convert their U.S. dollar savings into Vietnam dong due to a remarkable margin between the two currencies. However, a rising CPI in the future may prompt citizens to think that their savings in dong are no longer profitable and thus switch to other investment channels.
The promise of cutting lending rate by at least 0.5 percentage point in 2020 made by the Prime Minister during the Q&A session of the National Assembly sitting is a challenge for the central bank in particular and the banking system in general. To cut lending rate, the SBV has to come up with measures to cut deposit rate. [As a side note, last Monday the SBV made known its decision to lower lending rate by 0.5 percentage point applicable to priority industries].
Simply put, to reduce lending rate by 0.5 percentage point, deposit rate must go down by 0.5 percentage point correspondingly. Consequently, deposit ceiling rate would decline from 5.5%/year to 5%/year applicable to deposits of six-month term or shorter. [In fact, the central bank last Monday cut deposit rate by 0.2-0.5% applicable to savings in Vietnam dong deposited by individuals and institutions]
Vietnam's CPI is very likely to surpass the 3% level in 2019 and may reach 4% in 2020. That means the real positive interest rate enjoyed by depositors will be only 1%, way lower than the current rate of 3% (the difference between the ceiling deposit rate and inflation rate). If so, the central bank's monetary policy may confront more pressure as high inflation expectations of the entire economy will return. SGT
 
Ngoc Khanh

The State Bank of Vietnam (SBV) will hold its benchmark refinancing and discount rates at 6.25% and 4.25%, respectively, in addition to maintaining its 14% credit growth target for the remainder of 2019, experts forecast.  

The sharp rise in pork prices has driven up the costs of related food in restaurants and markets.