Vietnam would strongly cutting the number of procedures needed to start a business this year as an effort to improve the country's business climate.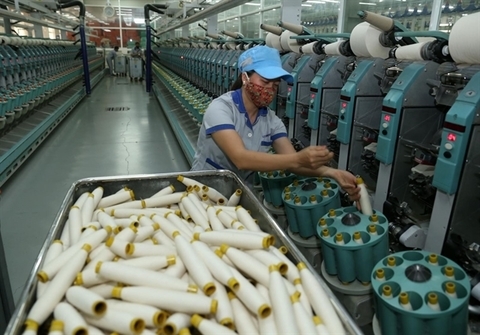 A worker at Phu Tho Textile Company in the northern provinve of Phu Tho. Viet Nam will reduce the number of procedures for starting a business by half this year.
This was stressed at a Government Office meeting on Monday to discuss solutions to improve the country's ranking for starting a business evaluated by the World Bank's Ease of Doing Business report.
Government Resolution No 2 issued on January 1 sets a target for Viet Nam jumping 10-15 spots on the ranking.
Viet Nam currently ranked 115th out of 190 economies in facilitating business establishment indicators in 2019, losing 11 spots against the previous year, with eight procedures in total.
The Government Office plans to submit a proposal to the Prime Minister about cutting procedures by half.
Minister, Chairman of the Office of the Government Mai Tien Dung said it was critical to enhance cooperation among ministries and promote the transition from paper-based to online procedures to boost reforms.
According to Director of the Government Office's Administrative Procedure Management Department Ngo Hai Phan, a number of reforms must be carried out.
Phan pointed out that although most procedures for opening a business were now conducted online, some paper forms were still required. In addition, to open a bank account, companies must submit their seals and business registration certificates.
He asked the Ministry of Planing and Investment to remove regulations that require paper forms in this regard.
Paper invoices should also be eliminated and replaced by e-invoices, he added.
In addition, national databases on businesses, social insurance and labour had not been merged, Phan said, adding that it was important to link them to facilitate management.
According to administrative reform specialist Nguyen Minh Thao from the Central Institute for Economic Management, if co-ordination among management agencies were enhanced, 25 per cent of time and costs to implement procedures to start a business could be reduced.
A representative from the General Department of Taxation said that promoting cashless payments would significantly help improve management.
"Difficulties for businesses must be adjusted and removed," Dung stressed.
The World Bank's starting a business indicator measures the number of procedures, time, cost and paid-in minimum capital requirements for a small-to-medium size limited liability company to start and formally operate in each economy's largest business city.
The Government of Viet Nam targets having at least one million firms by the end of this year, from currently nearly 800,000, requiring significant efforts to boost reforms and improve the business climate. — VNS
Changes in the global business environment, along with newly issued regulations and guidance on corporate income tax obligations, have been substantially affecting the operations of many businesses in Vietnam.  

A number of business conditions have been reduced or removed thanks to the Government's efforts in improving the business environment and increasing national competitiveness.