Real estate enterprises outpaced banks to issue the largest volume of corporate bonds last month, according to a newly released report by SSI Securities Corporation.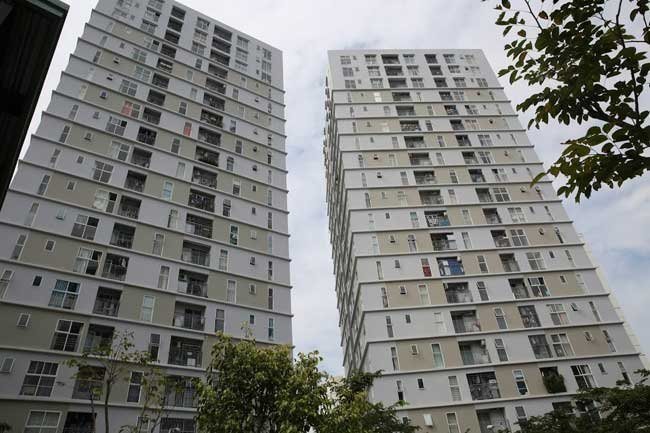 Two apartment buildings in HCMC. Real estate enterprises outpace banks in issuing the largest volume of corporate bonds in October
Specifically, property firms issued more than VND9.3 trillion (US$400.9 million) worth of bonds in October, accounting for nearly 55% of the total.
Of the total, Vinametric Co., Ltd, the owner of Saigon Prince Hotel, issued over VND3.7 trillion worth of two-year bonds with a floating interest rate. In addition, Saigon Vina Land JSC offered VND1.85 trillion worth of three-year bonds with a fixed interest rate of 11% per year.
Real estate enterprises offered high interest rates, at an average of 10.23%, well above the 9.6% offered in September.
In particular, Hong Hoang Investment Trading JSC issued five-year bonds valued at more than VND1.4 trillion with an annual interest rate of 20%.
Nevertheless, banks still took the lead in bond issuance in the January-October period with VND79.4 trillion, making up 44.4% of the total, followed by real estate companies with VND61.3 trillion.
However, the figures did not include the value of bonds issued in private placements in the first quarter of the year as the information on these issuances was not disclosed.
The growth of property companies in the bond market has posed a high risk to the economy. Many property firms have issued bonds as they find it hard to access bank loans, while commercial banks have invested heavily in these bond issuances.
In August, the State Bank of Vietnam warned of the high proportion of bank investments in corporate bonds. Investments in bonds for construction and real estate firms were large and tended to increase, while the property market has yet to make a sustained recovery, and businesses in both sectors still face many difficulties.
The central bank asked commercial banks to refrain from purchasing corporate bonds for the purpose of restructuring the debts of issuing enterprises, and they must also adopt post-lending supervision measures to reduce their bad debts.
Moreover, investors tend to be vague about the business performance of real estate enterprises that have issued bonds. For example, Saigon Vina Land reported losses of VND14.2 billion and its debt to asset ratio was 69% in the third quarter of the year, so its issuance of a large volume of bonds may pose a high risk to investors, according to SSI. SGT
Dung Nguyen
Despite a small supply of new projects at rather high prices, both investors and experts are optimistic about the prospects of this market – with good reason.

Ho Chi Minh City is named among top three markets for real estate investors in Asia-Pacific, according to a survey unveiled in Singapore on November 12.