Vietnam's prospects for growth remain positive despite record pessimism among chief executive officers (CEOs) about the global economy, said PricewaterhouseCoopers (PwC) Vietnam in a statement.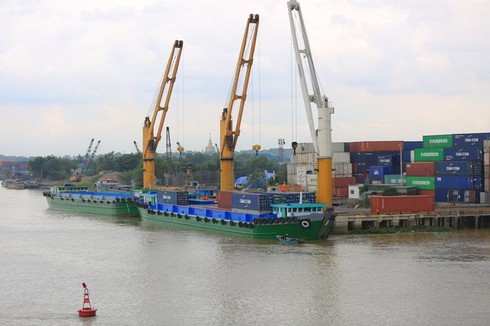 Container barges dock at a port in the southern province of Dong Nai. Vietnam's prospects for growth remain positive despite pessimism among CEOs about the global economy
CEOs are showing record levels of pessimism on the world economy, with 53% predicting a decline in the rate of economic growth this year. This is up from 29% in 2019 and just 5% in 2018, the highest level of pessimism since the London-headquartered firm started asking this question in 2012.
By contrast, the number of CEOs projecting a rise in the rate of economic growth dropped from 42% in 2019 to only 22% in 2020. These are some of the key findings of PwC's 23rd survey of almost 1,600 CEOs from 83 countries across the world.
CEO pessimism over global economic growth is particularly significant in North America, Western Europe and the Middle East, with 63%, 59% and 57% of CEOs from those regions, respectively, predicting lower global growth in the year ahead.
Meanwhile, there is optimism among CEOs in the Asia Pacific region, with 35% expecting improvement and 15% looking forward to "great improvement" in the next 12 months, the highest proportion among global regions.
This is consistent with results from its latest Asia-Pacific Economic Cooperation (APEC) CEO survey in 2019, where 34% of business leaders in the region (and 49% of Vietnamese CEOs) share a positive outlook for business growth in the year ahead, despite the declining trend overall.
"There is mutual optimism among Vietnamese and APEC CEOs for the year ahead, with Asia-Pacific remaining a significant destination and source of foreign direct investment fostered by resilient domestic growth in most of the region," noted PwC Vietnam General Director Dinh Thi Quynh Van.
However, she added, taking into account the global landscape of uncertainties, it is important for businesses to stay agile and cognizant of evolving factors to readily navigate and adapt to any challenges ahead. SGT

Vietnam is a major rice producer and exporter in the world, but Vietnamese farmers and companies cannot make fat profits.

Tran Quynh Huong, CEO of the National Start-up Fund and head of Techfest 2019's international investment pavilion, talks about Techfest 2019's plans to attract foreign investment and the potentials for Vietnamese start-ups to head overseas.