During the Black Friday 2019 shopping season, Hanoi remained muted while Ho Chi Minh City shoppers were out in numbers.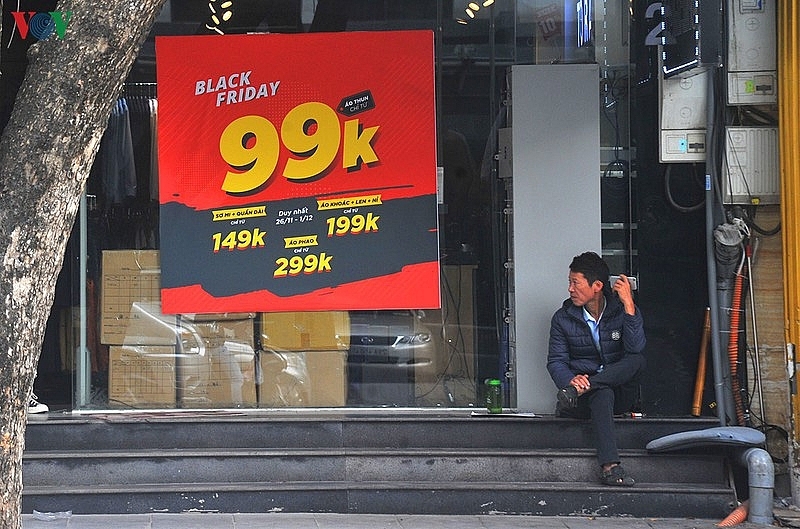 A bored vendor in Hanoi during Black Friday 2019. Ssource: VOV
VIR's reporters observed that on the streets of Ba Dinh and Cau Giay districts, a lot of shops remained mostly empty, despite running 50-70 discount programmes since early last week. Meanwhile, in shopping malls like Vincom Center Ba Trieu (Hai Ba Trung district), the atmosphere was somewhat more dynamic, it was nothing like previous Black Fridays.
The most popular items on sale were clothes, cosmetics, gadgets, and home appliances with discounts of up to 70-80 per cent. However, no throngs gathered or long lines formed as in previous years.
Thu Huong, a shopkeeper in Kim Ma Street, said that customers this year are very fastidious, they are more interested in the quality of goods instead of their prices as last year. "Even after I cut about 70 per cent in price, much of my inventory stayed on my hands."
On the other hand, the appetite for shopping in Ho Chi Minh City was much stronger, with traffic jams forming on most routes during the rush hours and many customers spent dozens of millions of VND on shopping.
Huynh Ba Kien in Phu Nhuan district said, "I began hunting discounts two days ago, but I still want to buy something today (November 29) to enjoy the exciting atmosphere. I have spent about VND10-20 million ($434-870) this Black Friday."
Hunting parallel imports on the rise
Vnexpress.net shows that the amount of orders on platforms trading in parallel imports have increased by as much as 9-10 times in the last two weeks.
Kim Thu in Ho Chi Minh City's Binh Thanh district said that during this Black Friday, shopping malls did not have many eye-catching items, and the majority was only using the shopping holiday to offload their stockpiles from previous years. "I didn't buy anything in the 50 per cent discount area, but bought one pair of shoes in the 30-per-cent discount area."
To prepare their wardrobes for the coming New Year holidays, Thu and her friends are also avidly hunting for discounted goods from overseas during the shopping festival. "Promotions in the US and the UK are more attractive with better quality and good-looking items. However, we have to be very quick in order and wait for a long time to receive them."

The shopping scene was more tumultous in Ho Chi Minh City. Source: laodong.vn
According to a platform specialised in parallel imports, orders from the US account for the majority thanks to a huge promotion of up to 70 per cent discount. The most popular goods are gadgets, shoes, clothes, and glasses, among others.
Some dealers even made 20-30 per cent more revenue during this Black Friday than last year's, thanks to selling parallel imports. This comes to dozens of millions of VND, according to vnexpress.net.
Fake promotions return
Aiming to boost the purchasing appetite during the shopping season, e-commerce platforms like Tiki have launched many promotions with discounts of up to 75 per cent. Some products have even been discounted 95 per cent, raising doubts about their original price.
Typing "cheap black watch" into an e-commerce platform, shoppers immediately had a wide array of promotions to choose from, including several products 95 per cent off.
Specifically, Dizizid watches were offered for VND99,000 ($4.30), equalling 5 per cent of the normal VND1.9 million ($82.61) price, while on other platforms that have opted out of the Black Friday deals, the same watch are offered for VND99,000-403,000 ($4.30-17.52).
Fake promotions are a common trick for vendors to increase sales without lowering their margins. VIR
Van Anh

Black Friday, the biggest retail promotion of the year, is ubiquitous in HCM City with most shopping centres and stores offering discounts of up to 90 per cent.