In 1881, when the French occupied Sai Gon during the first Indochina War, they built the first railway in Vietnam. It was also one of the first in the region and the most modern in Southeast Asia.
First short steps into private railway sector
Railway sector strives for better service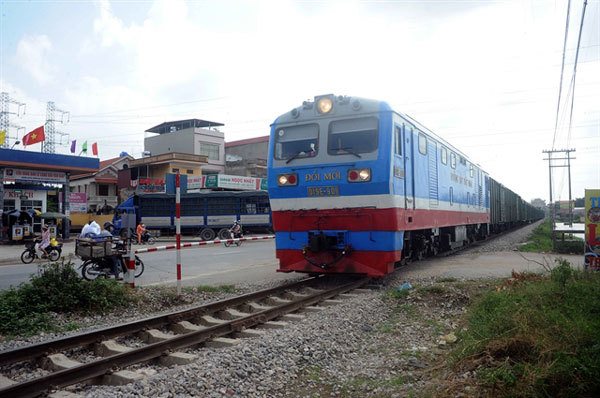 A level crossing in Thuong Tin District, Hanoi.— VNA/VNS Photo Quang Quyet
Almost 140 years later, the tracks are still in use even though they are outdated.
Vietnam's railway network is roughly 4,100 km long. About 85 percent of rail transportation runs on the 1,726 km North-South Railway between Hanoi and HCM City. All Vietnamese trains run on diesel.
For more than 100 years, the country has been using the metre-wide narrow gauge track, while the current standard worldwide is 1.435-metres.
The Government has approved a project to build a high speed electric railway line on a double-track with a commercial speed from 160 to 200km/h, it will not be completed before 2045.
In the region, China has 20,000km of high-speed railways, followed by Japan with 3,000km and South Korea with 650km.
Apart from slower speeds, railway accidents are also too common in Vietnam. Along the 3,000km North-South Railway linking Hanoi to HCM City, there are more than 4,200 illegal crossings, and in many sections, houses can be found alongside the tracks.
"With the breakthrough of other modes of transport, the railway network is stuck, and is even being dismantled," said Vu Anh Minh, chairman of Vietnam Railways (VNR).
In 1986, the railway sector accounted for 30 per cent of the transportation sector. The figure had fallen to 1.9 per cent, according to the VNR.
The number of train passengers decreased by 15 per cent from 11.2 million in 2010 to 9.5 million in 2017. Total freight carriage also dropped 29 per cent from 7.8 million tons to 5.5 million tons in the same period.
Dang Sy Manh, deputy general director of the VNR, said the low quality of infrastructure, such as weak bridges and tunnels, were the main reasons the sector could not improve its speed and transportation capacity.
Lacking connecting to other kinds of logistics services was also a weakness for the railway sector.
"The cost of transporting goods by rail might be cheaper than freight or air, but moving them from stations adds up, making railway transportation less competitive than air and freight," said Bui Xuan Phong, chairman of the Vietnam Railway and Economic Association under the Vietnam Union of Science and Technology Associations (VUSTA).
Deputy Minister of Transport Nguyen Ngoc Dong agreed, saying that in order for the railway sector to make a comeback, it needed to be properly connected with roads, ports and airports.
Lack of investment
VNR General Director Vu Anh Minh said the annual funding for maintenance allocated by the Government could only satisfy about 30 per cent of the total demand.
While the road sector received up to 90 per cent of the transport sector's total budget, investment in railways currently accounted for only around three per cent.
"In addition, it's difficult to attract social investment since its main functions are to facilitate socio-economic development and transport, while investors mostly focus on pay-back ability and profits," Minh said.
According to a report by the Asian Development Bank (ADB) in 2017 on reforming railway and metro asset management in Vietnam, revenue coming from the railway sector was also not efficient.
The report said passenger fares regulated by the VNR were low, while freight tariffs were largely unregulated.
Revenue generated by the sector were not related to operational costs and were propped up by large state subsidies. During 2012–2015, the sector generated annual revenue averaging $15 million. This covered operating costs plus around one-quarter of routine maintenance needs. Remaining maintenance costs and all capital expenditure were financed by the Government.
This system created few incentives for operational efficiency and did not generate the revenue needed to make significant track upgrades, it said.
Realising that the railway sector is an important factor of the nation's infrastructure and for the nation's economic development, in 2017, the National Assembly passed a revised Law on Railways in June 2017, providing incentives for private sector investment and establishing a medium term public investment plan of $350-400 million to upgrade rail infrastructure.
Under the new provision, investors enjoy lower interest rates and tax rates. They can even import railway cars and equipment into the country tax-free.
Nguyen Huu Duc, a professor from the National University in Hanoi and transport expert, said that in order for the sector to develop, it needed to connect and co-ordinate with other sectors.
Upcoming project
Deputy Minister of Transport Dong said that it would be hard to call for investment in the sector under the Public Private Partnership (PPP) model, since it required large capital and took time to recoup.
Five years after calling for private investment in the railway sector, no projects have been approved.
Apart from the large investment needed, Dang Sy Manh from the VNR blamed a lack of transparent and sufficient policies and mechanisms.
The Ministry of Transport recently submitted a feasibility report for a double standard-gauge high-speed railway with 23 stations, running from Hanoi to HCM City.
The North-South high-speed railway was recently revived after being rejected by the National Assembly in 2010 due to its $56 billion cost.
The project is now estimated to cost $58 billion.
If approved, land clearance would be carried out from 2020 to 2025, he said.
The project would be invested through the PPP model. State investment capital would account for 80 per cent and the private sector's investment would make up 20 per cent, he added.
VNS