The 14.58% growth rate is higher than the average credit growth of the economy.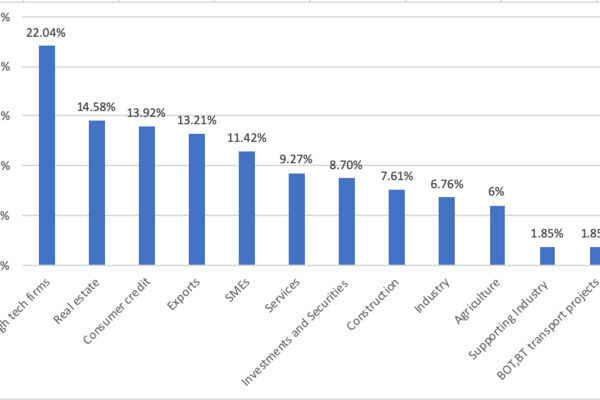 Lending growth rates of various fields in Vietnam's economy in Jan-Aug. Data: SBV
As of August, real estate loans expanded 14.58% against the end of 2018 and accounted for 19.14% of total outstanding loans in the economy, according to the State Bank of Vietnam (SBV). 
Such growth rate is higher than the average credit growth of the economy, said SBV's Governor Le Minh Hung in a report submitted to the National Assembly. 
In the first nine months of 2019, the country's credit grew 9.4% compared to that at the end of 2018, while the central bank targets a credit growth of 14% for the whole year. Hung said the credit structure continues to be shifted towards manufacturing, especially in priority fields as per the government's instruction, while loans are tightened to sectors posing high potential risks.
According to Hung, lending to the industrial sector as of August increased 6.76% against late 2018, accounting for 19.61% of the total, in which the manufacturing and processing grew 6.4%, making up 14.98%; and construction rose 7.61%, accounting for 9.66%. 
Meanwhile, loans in services sector climbed 9.27%, accounting for 61.8%. In investments and securities, lending grew 8.7%, or 0.4% of the total, and consumer credit with 13.92%, or 20.69%. 
As of August, outstanding loans in agricultural sectors expanded 6% against the end of 2018 and accounted for 24.26% of the total; lending for small and medium enterprises with 11.42% or 18.67%; exports with 13.21% or 3.16%; supporting industries with 1.85% or 2.91%; high tech firms with 22.04% or 0.41%. 
Notably, during the January – September period, lending to build-operate-transfer (BOT), and built-transfer (BT) transport infrastructure projects grew 1.85%, or 1.4% of the total. 
SBV Governor Hung expressed concern that these projects with outstanding loans of VND53 trillion (US$2.29 billion) after completion may turn into bad debts for commercial banks in case of low revenue compared to initial plan. Hanoitimes
Ngoc Mai

Vietnam's real estate market continues to attract foreign investors because of its growth potential, especially Korean investors, according to real estate consulting companies.  

Whether to allow real estate firms to issue bonds in the international market remains a controversial issue.