After many consecutive years of growth at an impressive rate, Vietnam's fruit and vegetable export almost immediately took a nosedive after the U.S.-China trade war broke out in the middle of last year. 
And since the beginning of this year, the growth rate has been negative. However, a closer look may reveal the inner problems of the industry which are to blame for such a setback.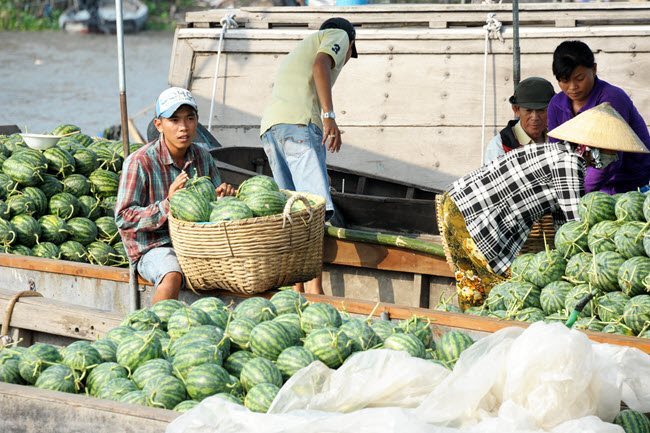 Vietnamese fruit and vegetable exporters should try their best to diversify export markets instead of clinging to a few traditional partners 
First, a careful scrutiny of Vietnam's total export sale would indicate that fruit and vegetable exports sharply increased by 35.3% in 2011 and a healthy growth had been maintained until 2017 at 33.6% per year on average. The pace boosted fruit and vegetable export revenue from US$623 million in 2011 to US$1 billion in 2013, and to US$3.5 billion in 2017. This growth rate is unrivalled by any of Vietnam's key agricultural exports.
From the angle of production, such growth rate seems illogical, because the surface area of fruit trees in Vietnam remained unchanged at below 800,000 hectares for 10 years from 2005 to 2014, and was slightly expanded in the two years after that (since 2017, those figures have not been available, and not until recently have statistics on the area and output of vegetables been made public).
Still, from the angle of import, the aforementioned increase is reasonable. As per the statistics, in the six years from 2012 to 2017, import grew at a spectacular rate of 31.9% per year with a turnover leaping from US$293 million to US$1.55 billion.
During these years, import from Thailand alone surged nearly 20 times, from US$48 million to a record high of US$857 million. The authorities have confirmed that about 90%, or almost all, of the imports from Thailand are for reexporting to the Chinese market.
Therefore, if "in transit Thai products" were excluded, Vietnam's fruit and vegetable exports would have been only US$594 million in 2011 and just over US$2.7 billion in 2017. Even so, the average growth rate during this period was still 30.6% a year.
Therefore, the statistics on fruit and vegetable exports do not faithfully mirror the picture of Vietnam's agriculture during 2012-2017.
In contrast, for more than a year since the beginning of the U.S.-China trade war, fruit and vegetable export suddenly made a U-turn.
Above all, statistics show that albeit an 18.9% rise in the first six months of 2018, the total export sales posted a growth rate of only 8.7% at the end of the year, and at 6% in the first eight months of this year. The main reason for this decline is the continuing fall in export to China, with a drop of US$416 million recorded in the first seven months of 2019. That said, export to China still made up 70% of Vietnam's fruits and vegetables bound for the world market, versus 74.9% recorded in the same period last year.
Meanwhile, import, particularly that from Thailand, still posted positive growth, but at a slower pace and occupied 36.9% of the "imported fruit and vegetable basket."
All the aforesaid points make it clear that the fall in export of fruits and vegetables is mainly ascribed to the weakened purchasing power of the Chinese market. Even so, Thai fruits and vegetables bound for China via Vietnam still rose. That means the decline in Vietnam's fruit and vegetable export must have been more severe.
In short, as far as fruit and vegetable export is concerned, the practice of "putting all eggs in one basket" (the Chinese market) still prevails. This is a virtual picture with two splashes of contrasting colors: the very impressive achievements in the past were due in large measure to Thai fruits and vegetables, and the unprecedented difficulty now is somehow mitigated thanks to Thai products.
Hope for new measures
As previously mentioned, Vietnam's fruit and vegetable exports began to plummet in early 2018. The reason behind is therefore not the U.S.-China trade war, but the fact that China started tightening its control on border trade and shifting to official imports, plus adjustments to domestic production, including the massive expansion of the dragon fruit growing area.
Even so, China's demand for fruits and vegetables has not been adversely affected. Fruits and vegetables imported into this nation in the first six months of 2019 still jumped 19.8% year-on-year, worth US$7.8 billion in total, according to the International Trade Center (ITC).
Aside from the stagnation in the Chinese market, Vietnam's fruit and vegetable export to her second largest market, the United States, has inched up at best, and no significant changes have been seen in other markets.
In such a context, two lessons can be drawn. First, given the practice of "putting all eggs in one basket" (the Chinese market), it is apparent that most of Vietnamese traders are not paying due attention to developing other markets to expand their market shares and also minimize risks when the major or important markets undergo wild fluctuations.
Second, the fact that fruit and vegetable export declined drastically as China converted its import method from border trade to official import along with higher quality requirements has revealed serious and fundamental shortcomings in Vietnam's system of production and distribution.
In particular, the greatest concern is the ability to meet product quality requirements, particularly those on food safety and hygiene.
This is also the main reason why the majority of Vietnam's fruits and vegetables have so far been able to penetrate only the Chinese market.
The weakness may stem from the consequence of the fragmented nature of Vietnam's fruit and vegetable industry, which consists mainly of small or micro farming.
Even though the knowledge and experience of many farmers are considerable, they are not prepared to adopt procedures based on food safety and hygiene. This is evinced in the overuse of fertilizers and pesticides in exchange for a good yield.
The many shortcomings of fruit, veggie processing
Considering current production and distribution, the branding of "made in Vietnam" fruit and vegetable remains a distant dream.
In short, although the Chinese market has long been deemed "an easy one," it has suddenly become fastidious, which comes as a shock to the export fruit and vegetable industry.
Hopefully, the change will deal a blow hard enough to waken Vietnam's fruit and vegetable industry, which was once obsessed with vastly fanciful records.
Undeniably, as the border trade with China is now history, the restructuring of the industry to help its products satisfy diverse and increasingly demanding requirements of each segment in the vast global market of fruits and vegetables is the only way possible to bring potentials and advantages into full play. SGT
Nguyen Dinh Bich