The Viet Nam Sea Transport And Chartering Joint Stock Company, Viet Hai Shipping & Real Properties Corporation and Seagull Shipping Joint Stock Company are among the maritime transport companies that have had to shift their shares
 in recent years from stock exchanges to the Unlisted Public Company Market (Upcom) due to their poor performance.
Vinalines' restructuring plan approved
VN central bank injects $236 million to improve banks' liquidity
Experts warn north-south rail expressway may be uncompetitive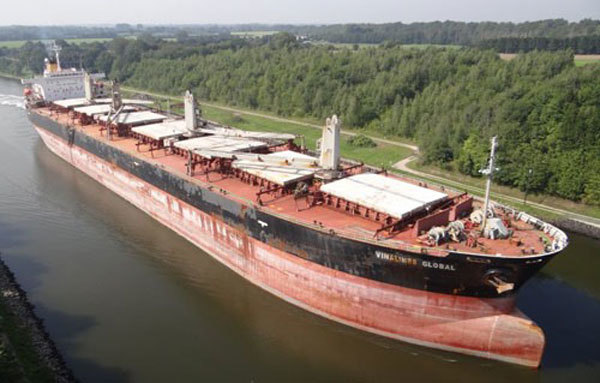 Some shipping companies have stopped operating on inefficient overseas routes and are instead using their vessels domestically, significantly reducing costs. — Photo cep.com.vn
Phuong Dong Trade and Service Joint Stock Company reported a net loss of over VND336 billion (US$14.6 million) last year, Viet Nam Shipping Industry Corporation reported a loss of VND2.89 trillion ($125.4 million) and Viet Nam Sea Transport and Chartering Joint Stock Company reported a loss of over VND255 billion ($11.1 million).
While the domestic maritime transport industry has generally had a very gloomy time, some companies in the sector have managed to surmount the problems to achieve impressive results.
After several years of chronic losses, the Viet Nam National Shipping Lines (Vinalines) achieved after-tax profits of over VND245 billion ($10.7 million) last year.
The company is seeking to capitalise on the momentum and has set a turnover target of VND12.71 trillion this year.
Viet Nam Ocean Ship Joint Stock Company (Vosco) has also turned around after several years of losses, and reported a profit of VND14.5 billion last year.
Analysts attributed their success in recent times to restructuring.
Vinalines, for instance, has made great efforts to change its financial structure, reduce its number of ships and pull out of non-core sectors.
Vosco has also spent much effort on financial restructuring and rearranging its fleet to ensure that all vessels are used efficiently.
Some shipping companies have stopped operating on inefficient overseas routes and are instead using their vessels domestically, significantly reducing costs.
Investing in container services that are now considered to be very profitable is another measure many shipping companies have taken to improve their profitability.
Banks ready to meet beneficial Basel II norms
Tran Huy Hung, chairman of the Asia Commercial Bank, said his bank has been recognised by the State Bank of Viet Nam (SBV) as meeting Basel II capital adequacy standards.
Last month, the central bank had said three other lenders, Military Commercial Joint Stock Bank, Viet Nam Prosperity Joint Stock Commercial Bank, and Tien Phong Commercial Joint Stock Bank, met capital adequacy ratio (CAR) requirements.
There are now seven banks in the list, the other three being Vietcombank, OCB and VIB.
They have begun to comply with the provisions of SBV's Circular No 41 from May 1, which also means all their activities now have to follow Basel II norms.
Basel II is the second edition of the Basel Accords, which are recommendations on banking laws and regulations issued by the Basel Committee on banking supervision.
It has provisions related to minimum capital requirement, supervisory review and market discipline.
At HDBank's annual general meeting in April, General Director Nguyen Huu Dang said the bank expects to be allowed by the central bank to adopt Basel II standards later this quarter.
VietinBank shareholders at the annual general meeting this year approved two options for dividend payments: either in shares at a ratio of 8.03 per cent or no dividend payment to allow the lender to use its entire retained profit to hike equity and improve its CAR in order to soon to meet Basel II standards.
The bank is waiting for approval from relevant agencies. The Government currently owns a 64 per cent stake in VietinBank.
Analysts said though the central bank has instructed lenders to meet Basel II norms by early 2020, many are seeking to do so before that.
Why? Because they expect to get preferences in credit growth limits if they meet the norms.
The SBV has confirmed that credit growth caps would continue to apply this year to all banks, with priority given to those who meet Basel II capital safety and risk management standards.
Preference will also be given to banks that lend for purposes designated by the Government such as rural development and reduction in loansharking.
The credit growth limit for the banking system this year is 14 per cent.
But a banker, who declined to be named, said lenders meeting Basel II standards could get high credit growth quotas this year ranging from 20 per cent to even 40 per cent.
Those still in the process of restructuring bad debts would get the lowest limits of just 6-7 per cent.
The rest of the industry would average 12-14 per cent.
Soon after being acknowledged by the central bank as meeting the Basel standards, some banks set higher credit growth targets for this year than last year.
VIB, one of the first to meet the standards, expects the SBV to approve its proposal of 35 per cent credit growth this year.
TPBank is eyeing 20 per cent and industry insiders expect MBBank to ask for 30 per cent.
But Vietcombank and OCB, despite meeting the norms, have remained cautious and target only 15 per cent growth, the same as that of smaller lenders such as Kienlongbank and Nam A Bank.
Some lenders have yet to meet the Basel II standards and have therefore been given low credit growth quotas this year but still set high profit targets.
They need to figure out other ways to earn profits, analysts said.
They suggested they could lend on the inter-bank market since the credit growth cap does not include lending to other credit institutions.
Government rethinking north-south express rail
The Government has instructed the Ministry of Transport to continue soliciting opinions from experts and the public on the construction of the 1,559 kilometre high-speed north-south railway.
A release by the Government Office said the gigantic project requires enormous funds, vast areas of land and sophisticated technologies.
The preparatory work for the project should be done in a careful way so that the National Assembly, the Government, society, and the public could reach a consensus, it said.
The State Appraisal Council will consider the necessity of the project and its benefits to the country in terms of economy, politics, culture, society, environment, security and defence, according to the Sài Gòn Times Weekly.
A pre-feasibility study by the transport ministry has said the project will cost an estimated US$58.71 billion. Public funding is expected to make up some 80 per cent with the rest coming from the private sector.
The first phase, due to be finished by 2030, will include a 282km section between Hanoi and Vinh City in the central province of Nghe An and a 362km section from the south-central beach city of Nha Trang to HCM City.
Compiled by Thien Ly
VNS