For a long time, Vietnam has been considered as a potential retail market thanks to crowded population and strong purchasing power but not every retailer is able to succeed in doing business here.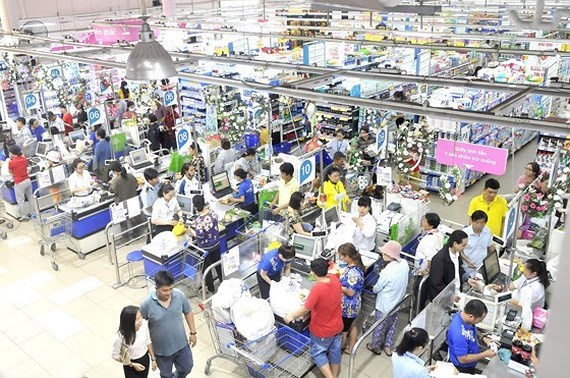 Consumers go shopping at a supermarket.
In the last four years, Vietnamese market had continuously seen the retreat of several global retailers.
Having held high expectation when first landing in Vietnam in 2015, recently, French retailer Auchan with 18 supermarkets in Ho Chi Minh City, Hanoi and Tay Ninh Province has decided to withdraw from Vietnam's market.
The chain generated US$50.4 million in 2018 and is still suffering losses. Therefore, Auchan decided to cease its business in Vietnam to cut loss and is in the progress to negotiate with its partner about handing over its existing outlets in Vietnam.
Being a subsidiary of Parkson Holdings Berhad, a member company of Lion Group, Parkson joined the Vietnamese market since 2005 and became one of the first department store operators here.
However, several department stores of Parkson were closed one after another, signalling a gloomy future of this network in Vietnam.
Metro Cash&Carry is one of the first European retailers entering the Vietnamese market to operate as a wholesale distribution business.
In 2014, the group also sold all its outlets and properties, including 19 supermarkets in 14 cities and provinces and five warehouses to the Thai group TTC.
After buying Metro's supermarkets, TTC Group invested a large amount of money to redesign display shelves, products and business strategy as well as change the name of these supermarkets to MM Mega Market in 2017.
Similarly, on April 26, 2016, French group Casino announced that it sold its Big C supermarket network to Thailand's Central Group for $1.14 billion so as to make up its losses from several markets.
As a result, after Auchan closes its stores, European retailers will no longer present in Vietnam. Instead of, Asian retailers from Thailand, Japan and South Korea have been holding market share as well as convenience stores and supermarkets in the country.
Generally, retail remains an attractive and potential market as market share of modern distribution channel is still low while more and more consumers tend to shift from traditional shopping channel to modern one.
This also means that the market's attractiveness and opportunities is great.
However, it depends on various factors in order to survive and succeed in the market. In retail field, there are many factors that determine the survival of the system, including the ability to capture and select target customer and market segment.
As for Parkson, it chose mid to high-end segment when entering the Vietnamese market so its business strategy must be set in order to attract brands and products to join to satisfy customer needs.
In this one respect, Parkson failed to do that whereas other department stores can.
Similarly, Auchan selected mid segment but it has not met and been tuned in to consumer demand.
More importantly, Auchan lacks of good executive staff. It might have sent some good excutives to run its supermarkets in Vietnam, however, these people could not understand the environment, culture and business model so they could not convey their ideas to their staff.
Moreover, Auchan also had not had a close connection with its partners, including internal and external partners, to share business strategy and philosophy.
The French retailer also had not created a close relationship with suppliers of business premises in order to have more options when expanding its network.
Because of these critical failures, Auchan was unable to succeed in Vietnam.
According to economic experts Vu Vinh Phu, competition in the Vietnamese retail market is extremely fierce with both fair and unfair competition.
As the income of consumers is not very high, unfair competition has been happening quite popularly.
If retailers are unable to comprehend market demand to bring out suitable business strategy, it will be extremely difficult for them to survive and succeed.
The recent 'death' of Shop&Go as well as changing name, changing owner or closing of stores of many brands in retail market has showed that this game is fairly cutthroat.
It requires players not only to be financially healthy but also to understand and indulge consumers.
Thuy Doan

More foreign investors have had to leave Vietnam after taking losses for a long time, though Vietnam is considered an attractive market with increasingly high purchasing power.
Capital withdrawals of foreign retailers in Vietnam have fielded a number of queries on whether the firms had sustained losses or if the local business climate lacked enough incentives.

French supermarket group Auchan Retail's plans to sell its loss-making business in Vietnam are already drawing interest from potential buyers, Reuters reported.