Retailers have taken Asanzo-branded items off their shelves after Asanzo Viet Nam Electronics JSC was accused of selling products imported from China as 'Made in Vietnam' goods.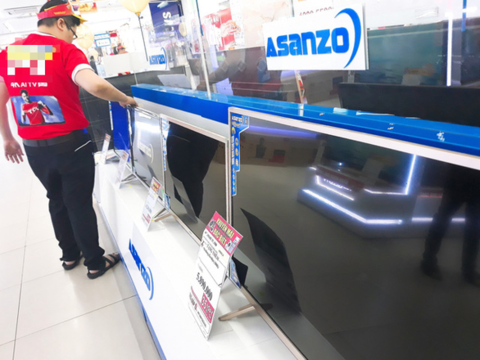 Many retailers of have taken Asanzo-branded items off their supermarket shelves. — Photo tuoitre.vn
Electronics stores in Ha Noi such as Nguyen Kim, Dien may Xanh, Media Mart, Pico and HC have stopped selling the company's televisions and air conditioners.
Staffs of Nguyen Kim supermarkets on Trang Thi Street said all Asanzo products had been removed from the shelves.
Asanzo product's suffered the same fate at Dien May Xanh supermarkets, while the store's website has also removed Asanzo products.
A representative from Dien May Xanh said they stopped trading all products from Asanzo after the company was accused of be trading Chinese electronic products bearing Made-in-Vietnam labels.
Most other electronics supermarkets in the capital city such as Media Mart, Pico and HC have also no longer sold the products.
Some small electronics companies and e-commerce platforms such as Shopee.vn, Lazada and Chotot are still selling Asanzo's TV products at prices of VND2.3 to VND28.6 million each.
Meanwhile, many retailers of electronics and home appliances in HCM City announced they would replace Asanzo TVs for customers who bought the products.
Mobile World Corporation on Friday made an official announcement about the change at its Dien May Xanh supermarkets to ease customers' worries.
The replacements will be available from June 27 to July 15 for products still in the guarantee period.
Tran Nguyen Tuan Anh, marketing director of Thien Hoa electronics supermarket chain said they stopped selling Asanzo products and asked the company to respond to the allegations and to be transparent in publishing information to protect consumers' rights.
The HCM City Consumer Protection Association has not received complaints from customers relating to Asanzo products.
The Department of Industry and Trade is working with the Market Watch Department to investigate Asanzo's products origin.
Local media on June 21 reported Asanzo Vietnam Electronics JSC had set up dummy companies to import spare parts from China for assembly in Viet Nam. Then workers allegedly removed the 'Made in China' stamps, assembled them into finished products and labelled them 'Made in Vietnam'.
On June 24, Prime Minister Nguyen Xuan Phuc asked the ministries of Finance, Industry and Trade, and Public Security, the National 389 Standing Committee and other government agencies to work together on the case and report to the Government by July 30.
Asanzo Vietnam Chairman Pham Van Tam denied his company had been selling Chinese products in the guise of 'Made in Vietnam' at a meeting on June 23.
Established in 2013, Asanzo Viet Nam sells mobile phones and home appliances such as air conditioners, microwaves, cookers and blenders, with TVs its key product line. The company is preparing to roll out a line of vacuum cleaners as well. The electronics manufacturer aims to generate revenue of VND10 trillion this year. — VNS

PM Nguyen Xuan Phuc has requested the Ministry of Finance and other government agencies to verify whether electronics firm Asanzo has been selling Chinese goods disguised as made-in-Vietnam, local media reported.

Several major retailers of mobile phones and home appliances have taken Asanzo-branded items off their supermarket shelves, after Asanzo Vietnam was discovered trading Chinese electronic products bearing Made-in-Vietnam labels.  

Electronic products from Asanzo Vietnam, known as an electronics manufacturer supplying high-quality Vietnamese products in the local market, have been discovered to be Chinese goods being sold as Vietnamese products.