Vietnam's industrial property market has flourished for the past few years thanks to a number of factors, including the rising costs in China that has led to the shifting of manufacturing locations to the Southeast Asian country.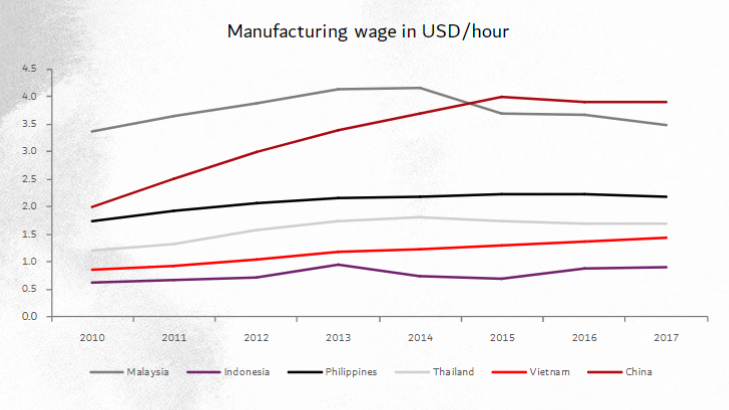 Labor cost rising in China. Photo: JLL
The higher costs in facilities and labor together with the growth in industrial land prices plus different concentration in industries in China have disheartened foreign investors and hurt their long-term investment in the giant country, according to Country Head of JLL Vietnam Stephen Wyatt.
He picked the world's top footwear and sportswear producers Nike and Adidas for his illustration, saying that Nike is slowly ditching China for Vietnam to make its sneakers while Adidas now makes twice as much footwear in Vietnam as China.
 

Nike and Adidas with operations in Vietnam and China. Photo: Theatlas
For that reason, Wyatt emphasized the factors that make Vietnam attractive to multinational corporations and the reasons why Vietnamese industrial real estate market is growing.
In terms of labor cost, the manufacturing wage in Vietnam and other Southeast Asian countries are pretty lower than that in China.
Meanwhile, Vietnam has the fastest urban population growth in Southeast Asia with 3.5% between 2018 and 2025, compared to 3.1% in Indonesia, 2.9% in Malaysia, 2.7% in the Philippines and Thailand, and 1.6% in Singapore.
Vietnam also has the fastest growing middle-income population, notably, the compound annual growth rate (CAGR) in Vietnam is 13% in the 2018-2030 period, the highest compared to that in the Philippines (8%), Indonesia (7%), Thailand (5%), and Malaysia (4.5%).
Vietnam's advantages
Overall, Vietnam is utilizing its advantages to develop.
 

Vietnam's economy in comparison with regional peers. Photo: IMA Asia/World Bank
Macroeconomics: the country has signed a number of free trade agreements (FTAs) namely ASEAN Free Trade Area (AFTA), ASEAN-Japan Comprehensive Economic Partnership (AJCEP), ASEAN-Korea Comprehensive Economic Cooperation Agreement (AKFTA), ASEAN-China Comprehensive Economic Cooperation Agreement (ACFTA), ASEAN-India Comprehensive Economic Cooperation Agreement (ASEAN-India CECA), ASEAN-Australia-New Zealand Free Trade Agreement (AANZFTA), Vietnam-Korea Free Trade Agreement (VKFTA), and Vietnam-Chile Free Trade Agreement (VCFTA). 
Strategic location: Vietnam has a wide network of ports, roads, and aviation routes that connect with many parts of the world, greatly enabling the country to be one of the most attractive destinations for global investors, JLL's analysis has shown.
Indeed, big ports including Haiphong and Quang Ninh in the north; Cua Lo, Dung Quat, Chan May, Danang, Quy Nhon, and Van Phong in the central region and Saigon and Vung Tau in the southern region are capable of receiving vessels with maximum DWT of 70,000.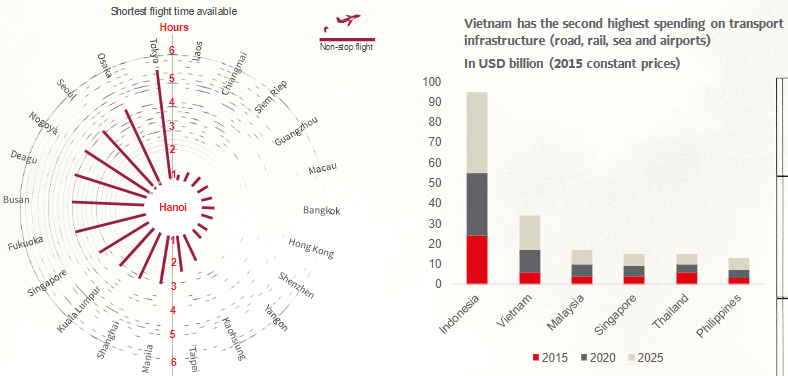 Vietnam's strong investment in infrastructure. Photo: Oxford Economics
Strong infrastructure spending: Vietnam ranks second just behind Indonesia for the most generous spending on transport infrastructure including roads, rails, sea, and airports with roughly US$35 billion by 2025.
Incentives in industrial and economic zones: Notably, both central and local governments have offered investment incentives to foreign investors including tax reduction/exemption applied for corportate income tax (CIT), value-added tax (VAT), import/export tax and special consumption tax (SCT), and personal income tax (PIT).
In addition, services supporting business operation like one-gate administration services and one-site customs services have helped save time and cost for investors.
Furthermore, assessibility to provincial and state budget gets easier with budget on human resources training, market development and application of science and technology.
Visa exemption has been offered for foreigners working/having business in the industrial and economic zones.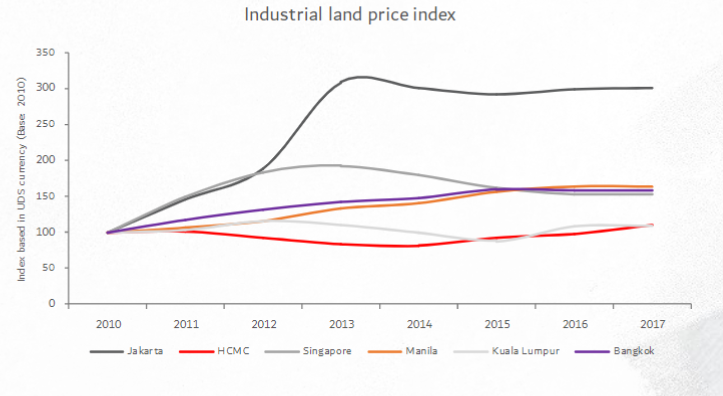 Vietnam's industrial land index. Photo: JLL
Last but not least, policies on land use levy exemption and reduction are clearly and transparent with exemption and reduction of land and water surface rents and exemption and reduction of land use levy when changing land use purposes, JLL analysis has showed.
Robust growth of e-commerce: This is driven by the high smartphone penentration (84% in 2017), good mobile internet in terms of the state of long-term evolution (LTE) (higher than in Thailand, Malaysia, and Indonesia) and shopping behaviors.
Evolving logistics market: Growing logistics market has greatly supported the business's operations, indirectly leaving impacts on the industrial property market. Hanoitimes