The European Union's evermore stringent regulations on quality management, food safety as well as traceability have piled tremendous pressure on Vietnam's agricultural exports to this bloc.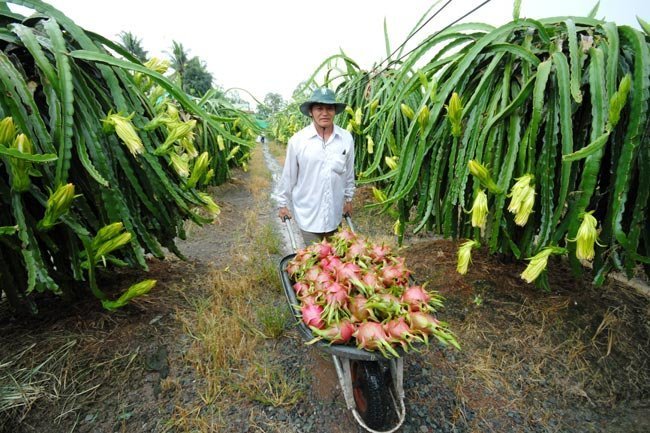 Dragon fruits are among Vietnam's key exports to the EU in addition to coffee, black pepper cashew nuts, rice, and several spicy vegetables
The EU has recently announced its revision of appendices II, III, VI in Regulation (EC) No. 396/2005 on pesticide residues such as chlorantraniliprole, clomazone, cyclaniliprole and fenazaquin in vegetables, fruit and foodstuffs.
According to Vuong Truong Giang, head of the Division for Food Safety and the Environment under the Plant Protection Department of the Ministry of Agriculture and Rural Development, these changes will affect some Vietnam's farm exports to the EU, for instance coffee, black pepper, cashew nuts, rice, dragon fruits and spicy vegetables.
Statistics from the Department for Processing and Agroproduct Development of the same ministry show that sales of several key farm exports to the EU—black pepper, cashew nuts and coffee—declined across the board in February. For instance, an estimated 12,000 tons of black pepper worth US$35 million was shipped to the EU, down 20% in value year-on-year. This was one of the products which suffered the deepest dive.
The total agricultural-forestry-fisheries product export during the first two months reached US$5.5 billion, 1.6% lower than that of the year-earlier period, of which the value of key agricultural exports attained US$2.71 billion, plunging 10.1%.
Being one of the biggest buyers of Vietnam's farm produce, the EU has prescribed high standards for food safety, package labeling and environment. Although the changes may not immediately exert tremendous impact on Vietnam's key farm exports to the EU, Giang noted that legal regulations on technical barriers have been continuously reviewed and revised by the EU.
Up to now, few Vietnamese enterprises—mostly small and micro enterprises—have paid adequate attention to the EU's changes which are in fact rather frequent. Giang noticed that Vietnam's farm produce exports to the EU have significantly improved their positions in the import profile of the EU, possibly making them a subject of scrutiny of the bloc's responsible agencies.
"The dilemma of Vietnamese enterprises is how to get EU regulation changes updated, whereby they can put things under control so as to meet the requirements for agricultural products imported to this bloc," said Giang. 
The rules of origin woes
During a recent forum on agricultural export, Minister of Agriculture and Rural Development Nguyen Xuan Cuong asserted the grim fact that economies across the world—including the EU—are strengthening their protection for local farm products by imposing higher standards of quality control, food safety and traceability. From the standpoint of a specialist, Giang warned that Vietnamese enterprises should be thoroughly aware of changes made by the EU which are normally posted on the website of the European commission for food safety.
Giang said the website of his Plant Protection Department has also regularly updated revisions in markets to which Vietnamese farm products are exported. Therefore, relevant business associations maintaining trade relations with the EU should monitor them to actively revise their business plans.
The pressure will further intensify when the EU-Vietnam Free Trade Agreement (EVFTA) is ratified by the EU, observed industry experts. Although the EVFTA is expected to facilitate Vietnam's farm export to the EU with the removal of tariff barriers, Pham Thi Du, an economist from Thuongmai University (Trade University), contended that meeting requirements for EU rules of origin, or overcoming its technical or quarantine barriers is a formidable challenge for quite a few Vietnamese enterprises.
Du argued that the main source of materials used to produce Vietnam's agricultural exports is from China, ASEAN and countries which have not yet signed an FTA with Vietnam. Take cashew nuts for example. They are primarily imported from Ivory Coast, Ghana and Nigeria, which account for 63% of the total demand. Currently, the EU is applying relatively stringent regulations on the origin of cashew nuts as it considers the shelling process of this commodity a simple one. Thus, to optimize the tariff incentives available, the Vietnamese cashew nut industry has to raise the ratio of the nuts provided locally.
Meanwhile, the Department for Processing and Agroproduct Development reported that Vietnam's cashew nut export during the first two months of this year dropped in both quantity and value, reaching 44,000 tons and US$365 million, a minus growth rate of 3.1% and 22.3%, respectively, against the same period last year. Experts argued that Vietnam's cashew nut industry has suffered from an imbalance between its processing capacity and domestic production of cashew nuts. To keep its leading position, the industry should improve productivity and quality from which it would seek opportunities to export more to demanding markets such as the United States and the EU.
To cope with nations which have erected more protection barriers, the Ministry of Agriculture and Rural Development has taken a host of measures. One of them in 2019 involves the formation of a set of national standards and specifications which concert regional and global regulations. In addition, this ministry has said it will stringently deal with violations affecting farm product quality to uphold the reputation of Vietnam's products in both domestic and international markets.
Vietnam's agricultural products are exported to 180 countries and territories, winning her the second place in Southeast Asia in that regard and 15th in the world with 10 items gaining export value worth more than US$1 billion each, and six earning more than US$3 billion—namely shrimp, woodwork, vegetables, cashew nuts, coffee and rice. SGT