Samsung repeatedly affirmed that Vietnam is its largest global strategic base not only for production but also for research and development.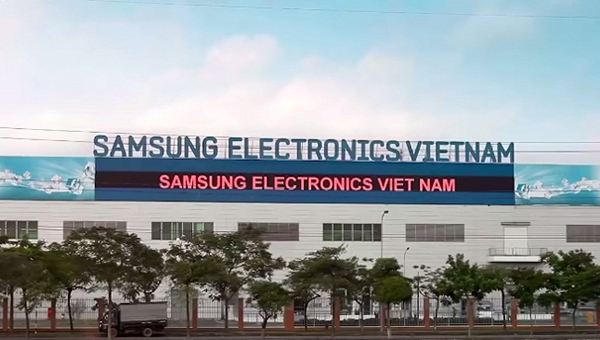 A Samsung factory in Bac Ninh province, north Vietnam
As Samsung plans to close its last factory in China fierce competitions from Chinese manufacturers, Vietnam and India emerge as next destinations thanks to a bunch of advantages that include low labor costs, low assembly price and people's preference for Samsung's devices, local news reported.
Samsung has decided to shut down its last factory in the city of Huizhou, Guangdong province, China which provides one-fifth of Chinese total smartphones sold in 2011.
According to South China Morning Post (SCMP), Samsung's share in the Chinese market in 2018 plummeted to 1% in the face of the fierce competition from local rivals namely Xiaomi, Huawei and Oppo.
In the first quarter of 2019, the South Korean company's mobile phone exports from Huizhou factory fell 20.1% year-on-year while Samsung in its golden time in 2011 ranked first in the world in producing and exporting mobile phones with 70.14 million and 55.64 million from Huizhou and Tianjin factories, respectively.
Samsung closed its factories in Tianjin at the end of 2018, leaving 2,600 workers unemployed after shutting down of a production base in Shenzhen some months earlier.
The continuous closing of Samsung's factories in China has raised questions about this country's role in the global chain as well as which will be the next country Samsung will relocate.
India with the population of 1.3 billion people is considered one of the largest smartphone markets in the world as it is predicted that there would be 780 million smartphone users by 2021, twice the number of 2016. However, Vietnam has its own advantage as it mainly exports the finished products instead of exporting parts to China for assembling as other countries do.
According to Deputy Head of the Department of E-Commerce of Hanoi-based University of Commerce Nguyen Binh Minh, Vietnam has a stable business climate where Samsung has a strong foothold and enjoyed generous incentives from the Vietnamese government. Samsung has repeatedly affirmed that Vietnam is its largest global strategic base for not only production but also research and development.
In 2016, Samsung Vietnam's R&D center successfully researched and made a finished phone instead of some small parts before. The "made in Vietnam" phone was then presented widely and received good response from the market.
General Director of Samsung Vietnam complex Choi Joo Ho informed that Samsung Vietnam's revenue reached US$28.5 billion while the export turnover was USD$24 billion by the end of this May.
By the end of 2019, Samsung Vietnam's revenue may soar to US$73.5 billion and the export turnover to US$63.5 billion, up 5% year-on-year.
Samsung is proceeding to build its largest research and development center in Southeast Asia in Hanoi, which is expected to employ more than 3,000 laborers.
The company also calls for investment from other South Korean tech firms in some projects in Vietnam such as a US$500 million semiconductor project in Bac Giang province. Hanoitimes
Ha An

Prime Minister Nguyen Xuan Phuc on June 14 suggested Samsung Vietnam expand its operation not only in electronics assembling but also in technological development.  

While some economists warned of the possibility of Vietnam lagging further behind regional countries, others believe that Vietnam will still perform well.