Stockbrokers' revenues are expected to fall sharply after a price war broke out among them in the wake of Circular No 128/2018/TT-BTC, which took effect last February.
Vietnam's securities companies begin playing new game
Fighting against dollarization will help stabilize exchange rate: experts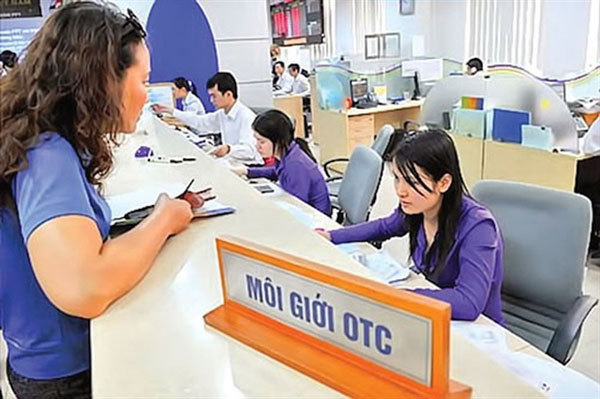 Stockbrokers' revenues are expected to fall sharply after a price war broke out among them in the wake of Circular No 128/2018/TT-BTC, which took effect last February. — Photo thuonggiaonline.vn
It has kept the maximum commission rate unchanged for buying/selling securities at 0.5 per cent. But what it has done is to scrap the minimum rate of 0.15 per cent fixed in 2016.
Analysts said this has set the cat among the pigeons, with securities companies immediately slashing brokerage rates, some even cutting them to zero.
Viet Nam Construction Securities Joint Stock Company deputy director Do Bao Ngoc said securities companies including his had decided to reduce fees because the market's liquidity was quite low and this was one way to attract.
The analysts said this decision to reduce brokerage would surely affect securities companies' revenues since these fees account for a lion's share for many.
Sai Gon Thuong Tin Securities Joint Stock Company, for example, told its annual general meeting this year that in 2018 brokerage had still been its main source of revenue.
Of its VND90 billion turnover last year, 80 per cent or VND74 billion had come from brokerage and interest on margin lending.
Trinh Hoai Giang, deputy general director of Ho Chi Minh City Securities Corporation (HSC), said the trend of securities companies cutting brokerage poses a big challenge to his company because it remains the biggest source of revenue.
His company does not plan to join the rate-cutting war but would instead focus on improving the quality of service to attract clients, he said.
A spokesman for the Sai Gon Securities Joint Stock Company said this year there is likely to be intense competition among securities companies over service fees and technology including the use of AI.
Foreign currency lending weakens dong against the dollar
On May 8 (Wednesday) the dong continued to slide against the US dollar, going beyond the lowest rate it ever recorded on April 24.
The State Bank of Viet Nam once again raised the reference price to VND23,046, down from VND23,030 the previous day by nearly VND50 from a month ago.
Since the beginning of this year, the Vietnamese currency has lost VND212 against the greenback, or 0.9 per cent.
Commercial banks also updated their rates on Wednesday morning, depreciating the dong by VND50-80, which was significantly higher than the black market rate.
State-owned Vietcombank sold the dollar at VND23,395, up from VND23,300 on Monday (May 6).
Vietinbank, one of Vietnam's three biggest banks, sold it at VND23,362 and Techcombank at VND23,395.
Smaller lenders such as Sacombank and Eximbank pushed up the rate of the greenback to VND23,398 and VND23,410, VND88 and VND100 up from Monday.
On the street, the dollar gained VND100 in a single day.
Analysts said the greenback has been steadily rising against the đồng for the last two weeks.
Why?
Analysts said one of the main reasons was the strong increase in foreign currency lending by banks following the issue of a new circular by the State Bank of Viet Nam.
The central bank's Circular No.42/2018/TT-NHNN allows credit institutions including foreign banks to provide loans in foreign currencies to some borrowers this year instead of prohibiting it as planned earlier.
It permitted lenders, until March 31 this year, to provide short-term foreign currency loans to importers of goods and services and exporters to import inputs only.
They can also provide medium- and long-term loans to pay for imports of goods and services until September 30, 2019.
This has sharply pushed up foreign-currency credit growth.
According to the SBV, by mid-April growth for the year topped 7.6 per cent.
It was much higher than credit expansion in the dong of only 2.9 per cent.
Foreign currency loans grew particularly rapidly at State-owned banks such as Vietcombank (10.7 per cent), BIDV (12.8 per cent) and Vietinbank (11.4 per cent).
Explaining this, analysts said both lenders and borrowers have preferred foreign currencies.
Borrowers prefer loans in dollars since interest rates are lower than on dong loans. Banks lent at 2.8-4.7 per cent in case of short-term loans and 4.5-6 per cent in case of medium- and long-term loans.
On dong loans they are 6-9 per cent and 9-11 per cent.
Banks have preferred foreign currency lending since interest rates on foreign currency deposits remain zero.
But with the strong growth in these loans, banks have had to further mobilise foreign currencies, even having to buy them to meet borrowers' demand.
Analysts said this increased demand has caused the dollar to strengthen against the dong.
This has been compounded by the country's worsening balance of trade as Vietnam posted a deficit of $770 million in April compared with a surplus of $1.63 billion in March.
They said the central bank has in recent years adopted a number of policies to reduce foreign currency lending as a ratio of total loans to prevent the dollarisation of the market.
However, they said, it is vital that policymakers take measures to reduce the interest rates on dong loans to more reasonable levels to encourage companies to borrow in the Vietnamese currency instead of foreign currencies to ensure forex stability.
They also said companies should seek cheap sources of capital by issuing shares and bonds and using trade financing from international institutions instead of depending on bank credit.
VNS