Consistent with its sustainable development journey, the central city of Danang is committed to promoting and attracting investment on a selective basis while constantly improving its efficiency, avoiding the wooing of funding at all costs.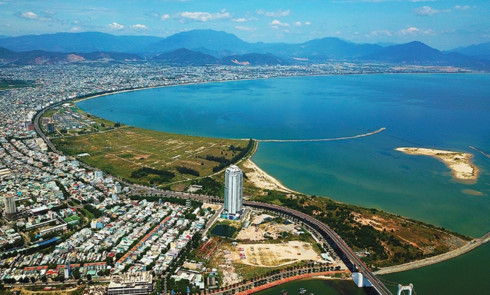 A huge focus has been placed on Danang in recent years, and leaders hope to boost it further through relevant funding. (Source: VIR)
At the 11th session of the ninth Danang People's Council, Chairman Nguyen Nho Trung stated that in the first six months of this year, the city developed in the right direction with stable economic development, despite facing many ups and downs.
Accordingly, budget revenues achieved good results, foreign direct investment (FDI) attraction witnessed positive changes, and key projects have been implemented effectively.
Moreover, production has improved compared to one year ago, while consumer demand and purchasing power have both increased, and the market was full of commodities with stable prices.
The total social production value is estimated to increase by 6.2 per cent over the same period in 2018. The total first-half state budget revenue amounted to VND14.72 trillion ($640 million), equal to 53.8 per cent of the estimate and up 9.7 per cent on-year.
Looking at investment attraction in the same period, Ho Ky Minh, Deputy Chairman of Danang People's Committee, said that focus has been put into promoting domestic and foreign co-operation, business development, and startups.
"The city successfully organised the investment promotion event, Spring Conference 2019, where eight projects received investment registration certificates and policy decisions with a capital value equivalent to more than $492 million. Furthermore, 11 other projects worth nearly $3.5 billion were allowed to conduct investment research," Minh said.
According to Tran Phuoc Son, director of Danang Department of Planning and Investment, from the beginning of the year, the total value of investment and development capital in the city approximated VND20 trillion ($869.5 million) in the first six months of this year, up 3.3 per cent on-year, more than VND14.5 trillion ($630 million) which came from the domestic private sector, a 6.4 per cent jump, and more than VND1.88 trillion ($81.7 million) from foreign-invested enterprises, up 10.5 per cent on-year.
In Son's words, the most notable on the city's investment attraction landscape is the UAC aerospace component production project which is set to begin operation in the first quarter of 2020. Likewise, the Mikazuki Spa & Hotel Resort project (expanding Xuan Thieu Tourist Area) strives to bring a premier entertainment complex and a water park into operation in June 2020 and inaugurate a high-end hotel in the first quarter of 2021.
The project envisages adding $50 million to the second phase's investment, and Danang Department of Planning and Investment has advised the city's People's Committee to issue a notice allowing the investor to research project expansion.
Selective attraction
Danang People's Council determined that, in the coming time, the city is committed to implementing the objectives on the theme of promoting ­investment attraction synchronously and effectively. It will aim to help with the development of foreign relations, businesses, and startups, thereby strengthening construction investment management, speeding up the implementation of major projects, and implementing environmental protection and management of revenue and expenditure in order to effectively hit the state budget's targets.
Despite achieving many positive results, Trung acknowledged that some economic indicators of the city were underperforming compared to the plan. Solving difficulties and creating conditions for enterprises to accelerate investment projects have not been carried out in an efficient manner, and many major projects and works were progressing at a rather slow pace.
Regarding the upcoming investment attraction orientation, Son from Danang Department of Planning and Investment unveiled that the city will focus on promoting and attracting investment on a selective basis with constantly improved efficiency to meet the development goals in the new situation.
Son affirmed the need for Danang to follow the sustainable development orientations in light of Resolution No.43-NQ/TW guiding the city's construction and development, as well as the resolutions and instructions of the city's Party Committee and People's Council.
Focus on sustainability
The city's growth model will be radically transformed towards sustainable development. Other tasks set by the relevant authorities include building an environmentally friendly city, adjusting the general planning to 2030 with a vision towards 2045, designing the economic development strategy to 2030, as well as reviewing and adjusting the planning of some areas along the river and coastal areas alongside resolving inadequacies in the planning. Suspending the production of enterprises and projects causing environmental pollution is also a must.
"To support the economic growth targets and benefits of local businesses in the long term, Danang aims for sustainable development, and harmonising the interests of the community, businesses, and the deployment capacity of the city," Son emphasised.
He also noted that because the land area of Danang is rather limited, in the past year, the city has focused on investing in the technical infrastructure of hi-tech parks with huge investment costs.
Therefore, investment attraction and promotion must be selective, focusing on key investors and projects that are technology-intensive and operating in key industries such as tourism, logistics, and IT.
Although investment attraction has been upbeat, the city's growth targets have not been as expected. One of the reasons for modest growth is that most projects which have received investment certificates or research notices are still in the process of initial implementation.
Besides that, although the city has been investing more in industrial parks, industrial clusters, and expanding hi-tech zones and software parks, the procedures are still time-consuming. As violations are spotted in the city's diverse areas, the unsettled dossiers and procedures related to land allocation, planning, construction, and implementation of financial obligations still exist, which has reduced the contribution to economic growth from city-based organisations, individuals, and investors. Challenges in clearance work in particular are also slowing project progress down.
"Based on the estimated results of the first six months, two growth scenarios for 2019 have been suggested," said Son. "In the first scenario, the estimated gross regional domestic product (GRDP) in the last six months of 2019 increases by 8.14 or 7.25 per cent for the whole year. In the second scenario, the estimated GRDP in the rate will climb by 8.45 per cent, while the rise for the whole year would be at 7.42 per cent."
In order to maintain the stable development of Danang, Trung affirmed that the city should continue ­reviewing and remedying shortcomings in planning and sustainable development, with the aim of ­building a modern, environmentally friendly, and civilised city for the ­community, as well as ­continuing to support ­both businesses and interested investors. VIR