In the fourth quarter (Q4) of 2019, Ha Noi saw fierce competition in the serviced apartment segment, according to Savills Vietnam.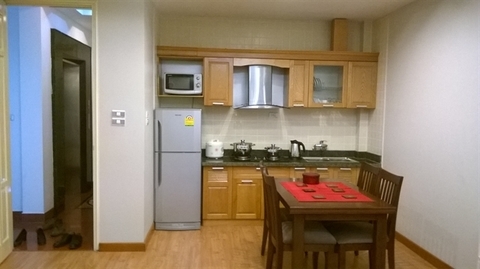 The Ha Noi market had fierce competition in the serviced apartment segment in the last quarter last year. — Photo canhochothue.vn
Total supply in this segment increased 6 per cent quarter on quarter (QoQ) to approximately 4,600 units, due to the entrance of one Grade A project in Q4 last year.
Due to a supply increase, the service apartment segment's occupancy was 82 per cent, down 2 percentage points (ppts) QoQ and 4 ppts YoY.
Average rent of this segment grew 6 per cent YoY to US$26 per sq.m per month, according to Savills Viet Nam's quarterly report on Ha Noi's property market in Q4 2019.
Every year, the serviced apartment segment sees high growth compared to other segments of the real estate market. But this segment in Q4 2019 was not so. The occupancy of serviced apartments was lower than the previous quarter and over the same period last year, said Do Thu Hang, Director of Advisory Services and Research from Savills Viet Nam's Ha Noi branch.
"The competition was strongest in the grade C serviced apartments. The serviced apartments face strong competition from apartments for sale. The individual investors had bought those Grade A and Grade B apartments for sale and then leased them. Those apartments have enough essential amenities," Hang said.
"Therefore, the Grade C serviced apartments had a decrease in occupancy and rents because they lack standard living space and essential amenities that tenants need."
In addition, many foreigners working in Ha Noi at foreign-invested projects have chosen hotels to replace serviced apartments. They have considered it an acceptable choice, she said. So, some Grade C serviced apartment projects had to be withdrawn from the market.
Besides that, villas for rent and landed houses have also joined this competition in some areas such as in Tay Ho, Vinhomes Long Bien, Ciputra and the west of the city.
The Korean community, leading the group of serviced apartment tenants, has changed demand from renting serviced apartments at projects to apartments that are bought by the individual investors to rent. Many of them even decided to buy apartments or houses in Viet Nam, she said. That has impacted the occupancy in the serviced apartment market.
Meanwhile, foreign experts and managers still chose Grade A serviced apartments but not Grade B and Grade C. Therefore, Grade A rent slightly reduced to US$32 per sq.m per month while Grade C rent continued to fall and stood at under $20, Hang said.
Serviced apartment projects run by foreign operators still have stable rent and occupancy, she said.
According to Savills Viet Nam, an estimated 2,700 units from 22 projects will enter the Ha Noi market this year, including three projects in the west. Tay Ho District will provide 47 per cent of future stock. — VNS