Shareholders were unaware of the power they held when dealing with a lack of transparency in listed companies, according to Nguyen The Tho, director of the Securities Market Surveillance Department under the State Securities Commission.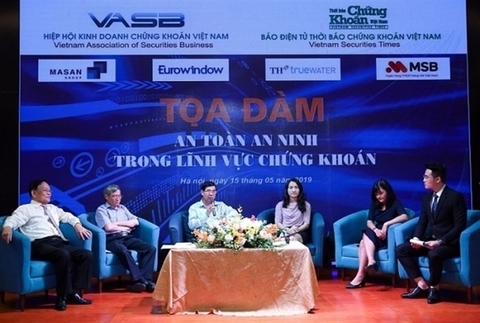 Specialists during the conference on the security of the Vietnamese stock market held on Wednesday. — Photo petrotimes.vn
Shareholders had the right to ask the company's board of directors to disclose business information, he told a conference on Wednesday held by the online Thoi bao Chung khoan Viet Nam (Vietnam Securities Times).
"They can even sue company managers for failing to do so," he said.
A company must make information public when it signs new contracts or if problems arise that may hit shareholders' asset value.
"The company must issue reports to address any rumours and reassure investors," Tho said.
"Buying shares means investors have put their expectations in the future value of the company."
Information is a very important channel on the stock market and can hit market sentiment. Rumours often spread in a young market like Viet Nam, according to Tho.
Rumours are often spread via social networks and word of mouth, and if investors are unable to confirm whether they're true or not, they can overreact.
"A rumour obviously comes from a group of people or an individual who want to manipulate the economy," he said.
In developed economies, there are strict punishments for market manipulation.
Investors were not to blame for overreacting, Tho said, adding market regulators and listed companies were required to make sure the market operated safely by making instant responses and providing statements to stabilise the market.
Rumours have been a problem for the Vietnamese securities market for years, making the market tumble in the past.
Economist Nguyen Trong Nghia urged investors to stay alert and clarify any news they heard before reacting.
Some participants at the conference raised concerns about people who created rumours to manipulate share prices for personal gain. Those people could be brokers, traders, investors and even company insiders.
Responding to questions, Tho said these people and groups were acting illegally to create fake demand and supply to manipulate share prices.
"The stock exchanges will develop new standards to control investors' order placements and cancellations so violations are exposed," he said.
Under existing regulations, an investor can only open one trading account at a securities company using the proper identification.
The lowest fine for stock manipulation is VND500 million (US$21,500) and violations may be investigated by the police based on the Penal Code.
The Central Mining and Mineral Import Export Joint Stock Company (MTM) is a typical case when former directors and managers took advantage of their credibility to falsify business information and issue shares to investors, earning more than VND56 billion in profit.
The case closed on May 7 with the firm's former founder being sentenced to life and others sentenced to 4-12 years.
Nguyen Thanh Ky, vice chairman cum general secretary of the Vietnam Association of Securities Business, said he hoped the SSC would tighten its connection with market members and investors to make the Vietnamese securities market stronger and healthier, thus boosting the Vietnamese economy.
He also called for investors to stay calm and listen to various sources before making any decisions in order to make the market more transparent and developed. — VNS