Vietnamese shares plunged on Monday as panic selling flooded the market, following surging COVID-19 cases, reinforcing fears of further economic pain from restrictions induced by the virus.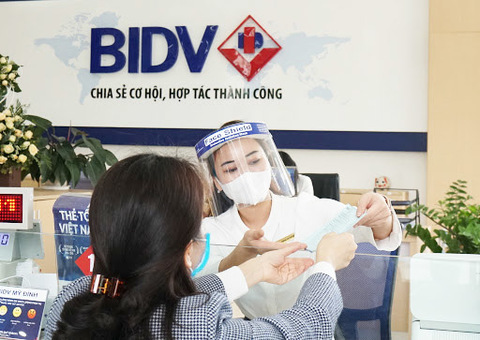 A teller of Bank for Investment and Development of Vietnam (BID) wears a mask. The bank's shares lost 6.5 per cent on Monday. — Photo courtesy of BIDV
On the Ho Chi Minh Stock Exchange (HoSE), the market benchmark VN-Index fell 3.77 per cent, to 1,296.30 points.
The southern market index lost more than 4.5 per cent last week.
The market's breadth was negative with 374 stocks declining while only 36 stocks rose.
The market liquidity was high as over VND31.6 trillion was poured into the southern bourse, equivalent to a trading volume of more than 961.7 million shares.
Starting last Friday, HCM City halted all lottery services, either via retailers or street vendors, as well as food and drink takeaways for 15 days.
The rules are part of social distancing measures for the city to curb the COVID-19 spread. It also suspended all motorcycle taxi drivers, either traditional or ride-hailing, for the 15-day period, but shipping services are to continue.
Following fears about restriction measures pressuring economic development, selling pressure weighing on most sectors was the main reason for the fall.
The VN30-Index, tracking 30 biggest stocks in market capitalisation on HoSE, dropped 3.43 per cent to 1,443.10 points.
There were only four advancers in the VN-30 basket. Masan Group (MSN) advanced over 2 per cent, Novaland (NVL) gained more than 1 per cent, Vietjet (VJC) and Mobile World Group (MWG) rose 0.93 per cent and 0.06 per cent, respectively.
In the opposite direction, losers included Bank for Investment and Development of Vietnam (BID) and PVPower (POW), falling more than 6 per cent. Techcombank (TCB), Tien Phong Bank (TPB), Bao Viet Holdings (BVH) and Hoa Phat Group (HPG) were the ones that fell over 5 per cent. Those that lost more than 4 per cent were Vingroup (VIC), Vinhomes (VHM), PetroVietnam Gas JSC (GAS) and FPT Corporation (FPT).
VPBank (VPB), Thanh Thanh Cong Bien Hoa JSC (SBT) and Vietinbank (CTG) even hit the daily limit decline of 7 per cent.
"Market liquidity increased again and market breadth remained negative, reflecting the sell-off sentiment of investors. With the trend, VN-Index may move in the range of 1,320 -1,380 points next week," said BIDV Securities Co.
Meanwhile, on the Ha Noi Stock Exchange (HNX), the HNX-Index lost 4.48 per cent to close at 292.98 points. 
Source: VNS