NUS Enterprise, the entrepreneurial arm of the National University of Singapore (NUS), on November 25 signed a Memorandum of Understanding (MoU) with Becamex IDC Corporation (Becamex) to establish BLOCK71 in Vietnam.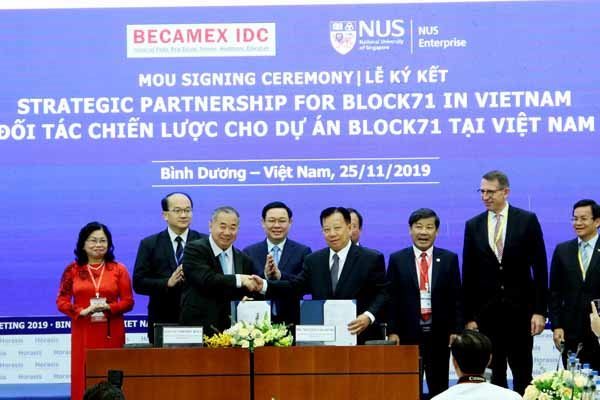 Professor Freddy Boey (L) shakes hands with Nguyen Van Hung, chairman of Becamex, after signing the MoU at the Horasis Asia Meeting
The MoU was signed at the Horasis Asia Meeting, held in Binh Duong New City in the southern province of Binh Duong.
The joint initiative will support a two-way flow of talent, technologies and start-ups with the aim of promoting innovation and entrepreneurship development in both countries.
Vietnamese and Singaporean start-ups may use BLOCK71's global network of resources and contacts to kickstart their entrepreneurial journey and gain access to international markets.
At the same time, the initiative will facilitate greater information exchange, connectivity and access to programs between Singapore, Vietnam and the region.
BLOCK71 takes its name from its birthplace – the Block 71 building within the Ayer Rajah industrial estate in Singapore, where a disused industrial building was transformed into a renowned landmark for innovation through championing the aggregation and growth of the local technology start-up community.
BLOCK71 in Vietnam is the latest extension of NUS' global network of entrepreneurial gateways to overseas hubs, enabling NUS start-ups and technologies to gain access to new markets, and vice-versa, to promote access to education and innovation programs in NUS for Vietnamese students and entrepreneurs.
In Vietnam, both NUS Enterprise and Becamex will work closely to cultivate a vibrant and sustainable entrepreneurial ecosystem and build bridges for business development in Vietnam and beyond.
BLOCK71 supports entrepreneurs by providing access to global networks. NUS Enterprise and Becamex have a comprehensive network, including investors, corporate partners, mentors and industry experts. Singapore start-ups can gain easier market access and Vietnamese start-ups can leverage NUS Enterprise's entrepreneurial hubs in the United States, Indonesia, China and Singapore to venture into these markets. SGT
Hung Le