Six Asia-based investors of Huy Vietnam are filing a lawsuit against founder Huy Nhat for suddenly closing the Mon Hue restaurant chain.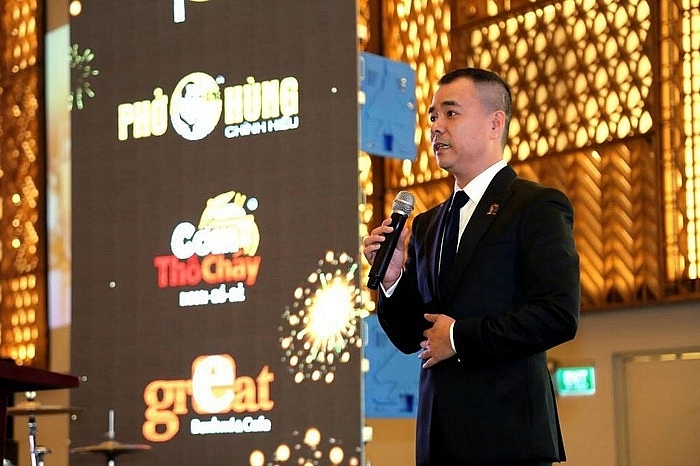 Huy Nhat, founder of Huy Vietnam

The investors include ADV Partners, AIF Capital, F&H Fenghe, Fortress Investments, Gryphus Capital, and Welkin Capital. Since 2013, they have poured $70 million into Huy Vietnam.
"While we are disappointed that matters came as far as the lawsuit, we hope the case will soon be handled at Vietnam's People's Court," stated the complaint. "The incident has also made 1,500 staff lose their jobs."
The investors' latest move is the latest episode in Huy Vietnam's ongoing scandal. Previously, many of the company's suppliers claimed that the Mon Hue restaurant chain owed them dozens of billions in VND, with debts ranging from several millions of VND for printed ink to billions for food.
Vnexpress.net quoted sources as saying that Huy Vietnam initially planned to maintain its last eight Mon Hue restaurants until the end of this year, cosing the curtains on restaurant chains like Mon Hue, Pho Ong Hung, Com Express. However, due to the huge pressure from the debtors of the parent company, all restaurants were closed. Some of them hung out banners saying they were moving to a new location.
1. ADV Partners
ADV Partners was established in 2018 with the target of seeking potential investment opportunities at medium-sized enterprises in the region. Its financial investment markets include China, India, and Southeast Asia. Currently, the fund has poured capital into 15 companies, including Huy Vietnam as the only one in the country.
2. AIF Capital
Operating since 1994 from its headquarters in Hong Kong, AIF Capital is the fifth co-operative investment fund of five international financial institutions (including the ADB and the IFC). Currently, the fund has carried out 46 investments worth $1.8 billion in 10 Asian countries. In 2014, AIF Capital poured $10 million into Huy Vietnam.
3. F&H FengHe
FengHe Group's venture fund F&H FengHe was founded in 2010 by businessmen John Wu and Matt Hu. The fund mainly focuses on business ventures in the consumer and technology sectors. Huy Vietnam is one of the 11 regional companies receiving F&H FengHe's investment.
4. Fortress Investment
Fortress Investment is an investment management company founded in 1998. Fortress was managing the assets of 1,750 organisations and private investors,including credits, real estate projects, private equities worth $40.9 billion as of the end of June 2019. In 2014, Dennis Nguyen, vice chairman of Huy Vietnam at the time, said that Fortress invested $5 million into the Mon Hue chain.
5. Gryphus Capital
Headquartered in Singapore, Gryphus Capital was established in 2000. The fund provides flexible investments aiming to help companies maximise profit and minimise business risks. Its investment into Huy Vietnam has not been revealed.
6. Welkin Capital Management
Welkin Capital Management is a China-based joint-stock company specialised in providing share equities for fast-growth companies. According to information released in April 2015, Huy Vietnam received a $15 million investment from Welkin Capital Group and Templeton Emerging Markets Group in its Series C fund-raising round. VIR
Van Anh

Mon Hue, a chain of restaurants with a large network of outlets across the country, suddenly closed its doors recently.

Major investors of Huy Vietnam Group Limited have taken legal action against Huy Nhat, the founder and chairman of Mon Hue, a chain of up to 80 restaurants across the country, as the firm has closed its eateries due to heavy debts.