The local real estate market has shown signs of deceleration so far this year, partly because of limited bank credit for the market, according to experts.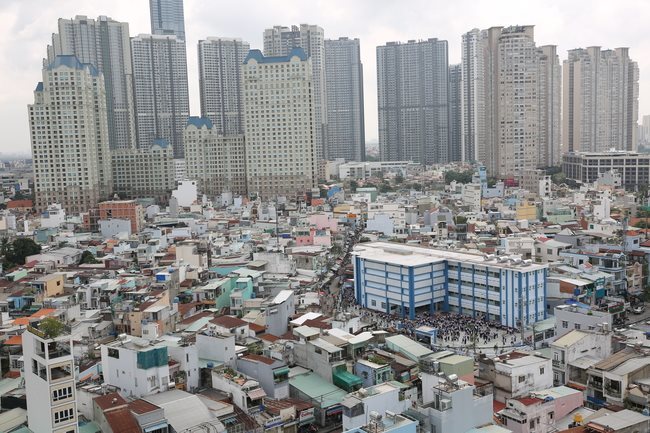 A bird's eye view of HCMC's Binh Thanh District. According to insiders, the real estate sector needs to reduce its reliance on bank loans
Nguyen Tran Nam, president of the Vietnam National Real Estate Association, told the Vietnam News Agency that credit for the real estate sector is getting increasingly tighter.
He cited a 2014 circular from the State Bank of Vietnam as saying that the ratio of short-term deposits that can be used to make long-term loans has been lowered to 40%, while the credit risk rate for loans in the realty sector has been raised to 250% from the previous 150%.
As such, credit growth in the real estate sector has reduced from 18% in 2016 to only 5% in 2018.
He noted that the diminishing credit flow into the sector has greatly affected the operations of the market, as most capital is sourced from banks.
To cope with such difficulties, Le Hoang Chau, chairman of the HCMC Real Estate Association, suggested that real estate developers ensure business efficiency, prepare available plots of land and pay more attention to the quality and progress of their projects and their transparency in management.
Businesses should find prestigious foreign firms and investment funds that have the necessary financial capacity for projects, he added.
Less reliance on decreasing credit loans serves as both a challenge and opportunity for the sector, which needs to be restructured. Insiders should reform their capital sources for sustainable and transparent development, according to the official.
From the business perspective, Nguyen Anh Tuan, deputy chairman of Hanoi-based developer HD Mon Holdings, stated that the central bank has set out an appropriate and timely roadmap for tightening credit for the real estate market.
Tuan expected the move to boost the sustainable development of the realty market since businesses would be more cautious in structuring their product portfolios.
Nguyen Van Duc, deputy director of Dat Lanh Real Estate Co., Ltd, from HCMC, said that local banks are reviewing their consumer loan packages that could have been used for the purpose of realty investment, to limit heavy investment in the sector and so prevent a possible property bubble.
As a result, businesses could find it hard to borrow bank loans if they have yet to complete legal procedures for their projects.
He said these developers can seek other sources of capital such as through mergers and acquisitions or share and bond issuance. SGT

The HCM City housing market is expected to recover again after being flat for over one year with support from the local government.  

The real estate market has slowed in the first months of 2019, which experts attributed to limited bank credit sources for the market.  

The Hanoi Department of Taxation has just announced that hundreds of real estate companies owe a total of VND1.126 trillion ($48.9 million) in tax, administrative fees, and other land-related sums.